Trio S
Main advantages
Low weight
Great poackability
Detailed Description
Trio S
Set of camping utensils for four to six people made of stainless steel. The folding handles are made of steel wire, which is coated with heat-resistant silicone. Lid handles are also silicone.
The logos and volume lines on the dishes are marked using laser engraving, which guarantees them high chemical and mechanical resistance.
The pouches are perforated on one side with small holes allowing for filtering. The large lid fits both a large pot and a pan.
The tableware is made of durable and impact-resistant AISI 201 steel. It does not contain BPA, lead or phthalates.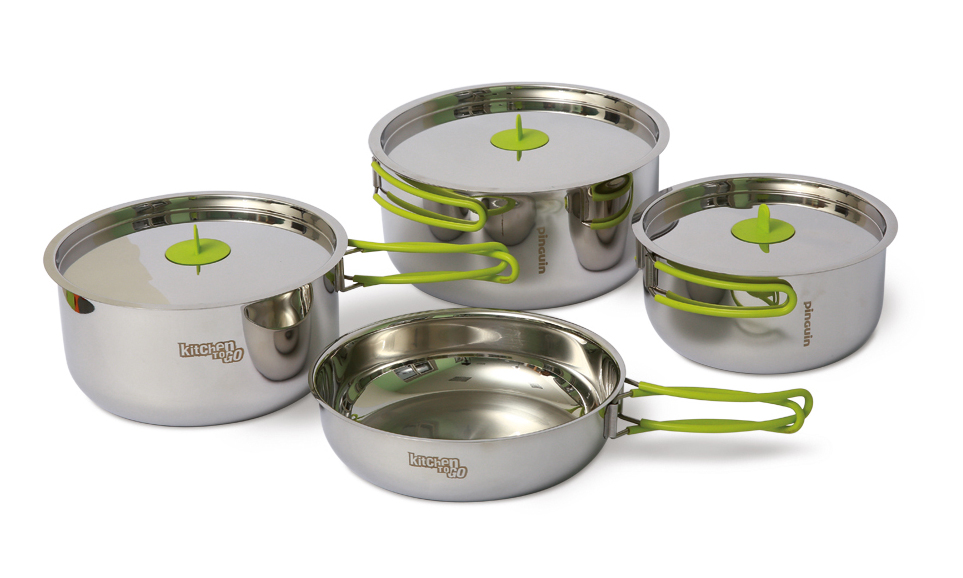 Technical specification
features:
Material
Stainless steel 18/8, polypropylene, silicon
Dimensions
⌀195 x 100 mm
Weight
1215 g
Carry bag
Yes
Pieces in set
7 ks
Number of people
3 - 5
Content of the set
Pot
*1000ml / 850ml / ⌀152 x 66mm / 185g
Pot
*1500ml / 1300ml / ⌀172 x 83mm / 235g
Pot
*2250ml / 2000ml / ⌀192 x 100mm / 280g
Lid
⌀195 x 10mm / 120g
Pan
*1100ml / 900ml / ⌀195 x 50mm / 215g
Set contents
The set consists of three pots with lids and a frying pan.
The total volume of the pan is 1100ml, of which 900ml is usable.
Pot volumes are 1000ml, 1500ml and 2250ml in total, usable volumes are 850ml, 1300ml and 2000ml.
The inner sides of the pots are marked with volume lines with a resolution of 500 ml.
The set is delivered in a mesh transport package.