Main advantages
Low weight
Great poackability
Used materials
Hard Anodized Aluminium
Lightweight and high quality material with a surface treated with electrolytic oxidation, which increases its abrasion resistance and fire resistance.
The formed oxide layer improves the functional properties of the underlying alloy, especially increasing the corrosion resistance, hardness and abrasion resistance of the anodized parts. Anodizing is environmentally friendly because the oxidation process is an enhancement of the natural oxidation of aluminum, so it does not produce heavy metals or other harmful and dangerous by-products.
Detailed Description
Rover L
Set of camping utensils made of aluminum with an anodized surface. The folding handles are made of steel wire, equipped with a silicone heat-resistant tube, the lid handles are plastic.
Anodizing (also Anodizing) creates a very strong and hard layer of aluminum oxide on the surface of the material, which prevents further oxidation, increases the strength of the material and its resistance to abrasion.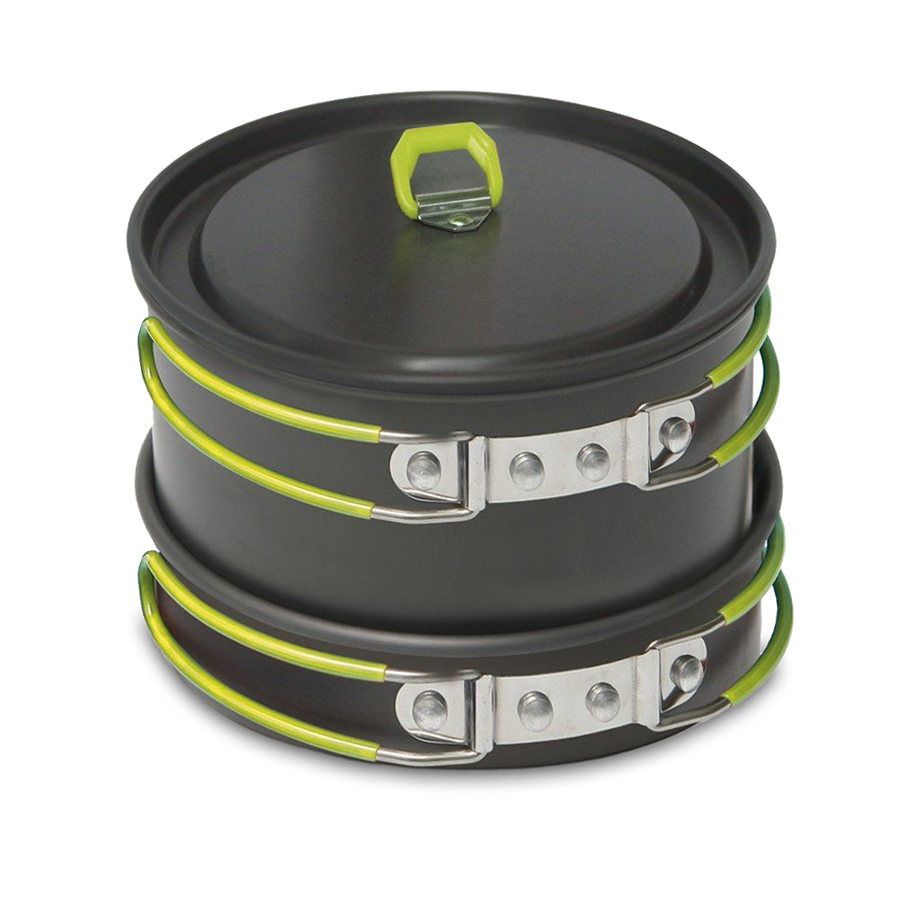 Technical specification
features:
Material
Anodized aluminium
Dimensions
⌀197 x 125 mm
Weight
919 g
Carry bag
Yes
Pieces in set
7 ks
Number of people
3 - 5
Content of the set
Pot
*1150ml / 875ml / ⌀150 x 80mm / 162g
Pot
*1700ml / 1500ml / ⌀170 x 190mm / 180g
Pot
*2700ml / 2250ml / ⌀195 x 117mm / 223g
Lid
⌀195 x 15mm / 72g
Pan
*1000ml / 750ml / ⌀197 x 45mm / 190g

Set contents
The set consists of three pots with lids and a frying pan.
The total volume of the pan is 1000ml, of which 750ml is usable.
Pot volumes are 1150ml, 1700ml and 2700ml in total, usable volumes are 875ml, 1500ml and 2250ml.
The top edge of the smallest pot (1150ml) has a "beak" shaped for easier pouring, and its lid is perforated on one side, which allows straining.
In the set, you can conveniently carry a gas stove as well as a towel and a sponge for washing. This accessory is not included in the package.
The set is delivered in a mesh transport package.