Walker 50
Main advantages
Walking sticks straps
Removable back support
Hip belt with pockets
Compression straps
Raincover
Used materials
HICOR 3.0 RS
High performance and long lifetime fabric
High performance and long lifetime fabric
YKK Zippers
High quality Japan zippers
The zippers of the well-known Japanese manufacturer, which is one of the best zipper manufacturer in the world. The zippers of this brand guarantee quality, long lifespan and reliability. Components of small dimensions, but of great importance, because their trouble-free functionality is often a condition of the function and usability of the whole product.
Spony Duraflex X-Lite Easy Access
For easy handling with gloves
Detailed Description
Simplicity and comfort
Two-chamber backpack designed for long-term trekking and outdoor stays. This backpack puts emphasis on its simplicity, appearance and comfort.
The chambers are separated by a zipper partition and can be filled from top or bottom. In addition, there are two straps that provide support at a higher load. The pocket is equipped with two riders that allow opening from the left and right.
Your other equipment that requires a separate placement, such as a first-aid kit or drinking bottle, will fit to smaller pockets, namely two mesh stretch pockets on the sides of the backpack, the zipper pocket on the front of the backpack ideal for a map, a mesh zipped pocket under the lid of the backpack, a larger zipped pocket on the back of the lid, a smaller pocket on the waist belt suitable for the phone and any small items.
Another advantage of the Walker is the straps on the underside of the backpack with buckles suitable for a mattress or sleeping bag.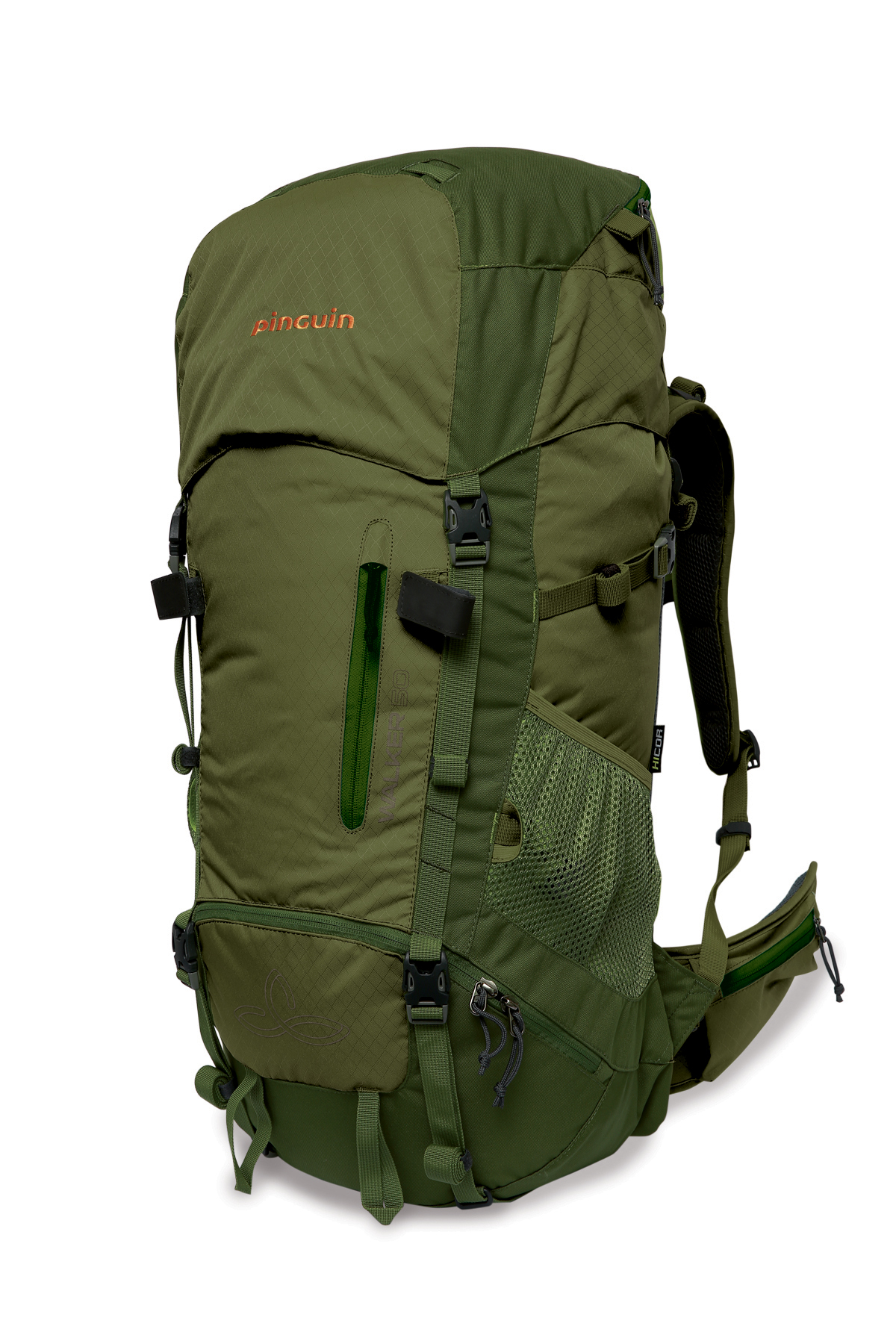 Technical specification
| | |
| --- | --- |
| Material | HICOR 3.0 RS; HICOR 6.0; Duraflex X-Lite Easy Access Buckles |
| Volume | 50 L |
| Weight | 1.55 kg |
| Amount of chambers | 2 |
| Outer / inner zipper pockets | |
| Adjustable shoulder straps | Yes |
| Detachable hip belt | No |
| Integrated raincover | Yes |
| Camel bag - ready | Yes |
| Back system | EVA Foam Back System |
| Zippers | YKK |
| Dimensions | 73 x 30 x 29 cm |
| Volume | 31L - 50L |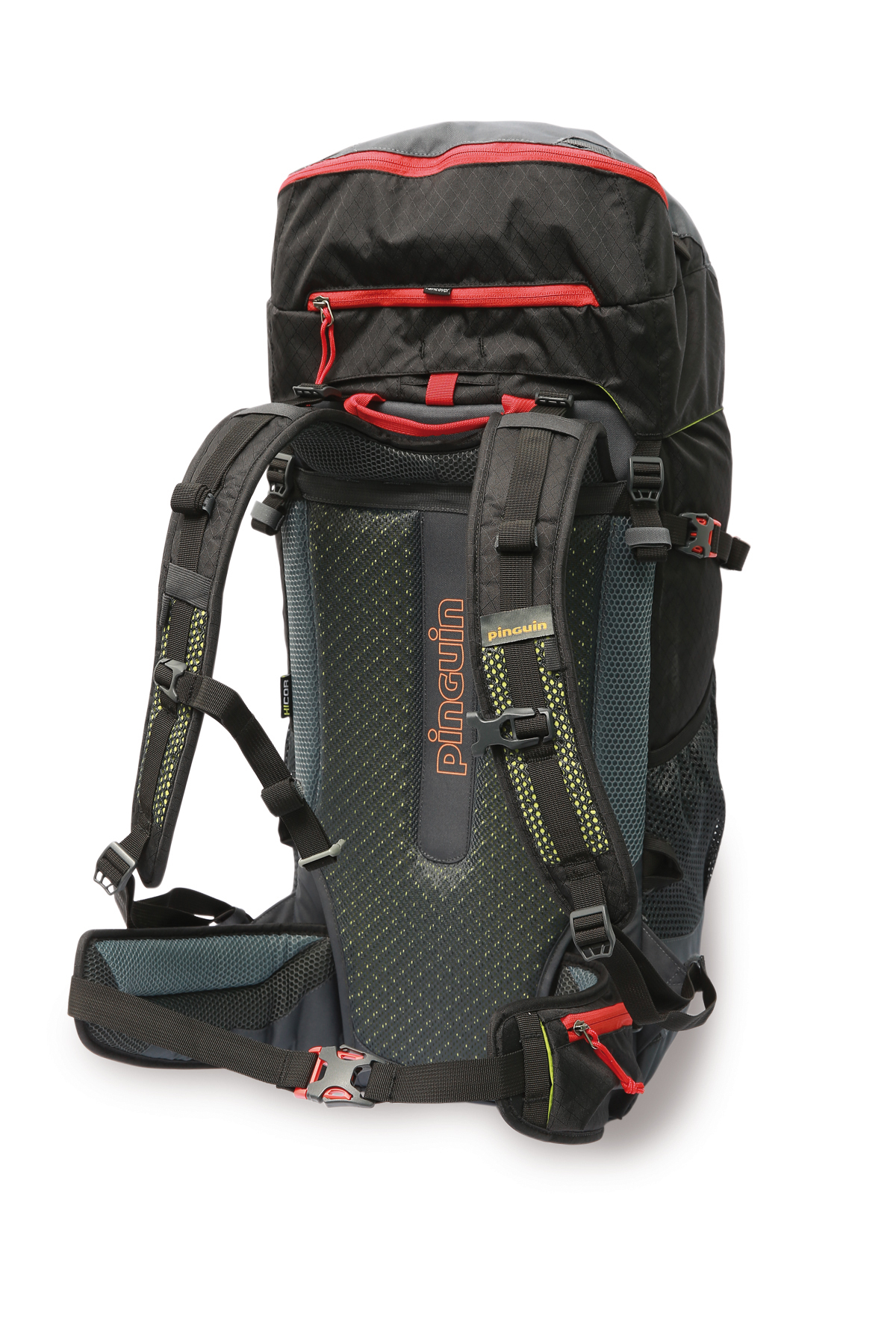 Compression as a key element
Surely it has sometimes happened to you that you have not filled the whole volume of your backpack and you know the unpleasant feeling when you feel the load traveling inside. This is not going to happen to you with Walker. The right shape of the back is taken care of by a series of duralumin reinforcements that can be easily removed, and the compression strap system ensures that the backpack is perfectly shut off.
Belt clips on the bottom pull down the lower chamber to the back system. Further, the straps hidden in the side pockets shut down and lower the backpack profile at the bottom. The same pair will carry the next couple of straps with buckles.
Other benefits
Duraflex X-Lite Easy Access Buckles for easy access and handling
Velcro system at the end of all straps to fix excess strap length after setup.
Separate Camelbag pocket, including velcro straps for hanging
Removable duralumin reinforcements.
A molded EVA foam for maximum comfort is used on the back and straps.
Detachable trekking pole holders with reflective prints.
Adjustable height of the breast strap.