Omega 4
Main advantages
Easy to build
High reliability
Used materials
The fiberglass rods are made with a new technology that achieves lower segment weight with increased resistance to breakage.
Lightweight and solid polyester flysheet fabric has high resistance to UV, does not age and retains its properties during prolonged exposure to sunlight and heat
Rain fly - PU coating
Provides water resistance up to 4000mm
PU coating
It is a thin waterproof polyurethane layer applied several times on the inside of the tropic.Depending on the number of layers of coating, the tropic is resistant to water pressure up to 4000mm (Extreme and Hiking series), 3000mm (Trekking and Family series) and 2500mm (Outdoor series). The coating retains its elasticity even at very low temperatures well below freezing.
Detailed Description
Omega 4
The Omega family tent range is an affordable combination of comfort, space, stability and ease of construction. These models are a generous space solution for larger groups or family camping.
Rain fly is made of Polyester with a polyurethane coating, which gives it a water column with a height of 4,000 mm. Seams are taped with heating tape to prevent leaks.
The floor is made of Nylon with a polyurethane coating, which provides it with a 10,000 mm water column.
The tent poles consist of laminate segments with a diameter of 9.5 and 11 mm.
Technical specification
features:
Weight
13.9 kg
Weight without inner tent
12.4 kg
Package Size
⌀28 x 67 cm
Number of people
5+
Amount of enterances
2
Construction type
Cupola
Amount of vents
3
Number of poles / crossing points
4 / 3
Buildable without a bedroom
Yes
Height of tent (bedroom)
200 (160cm)
Siliconised
No
Taped seams
Yes
Number of pins
33
Category
Family
Material
Material of poles
Fiberglass
Flysheet material
Polyester, PU coating 4 000mm H2O
Groundsheet material
Nylon, PU coating 10 000mm H2O
Pole diameter
9,5 / 11 / 16 mm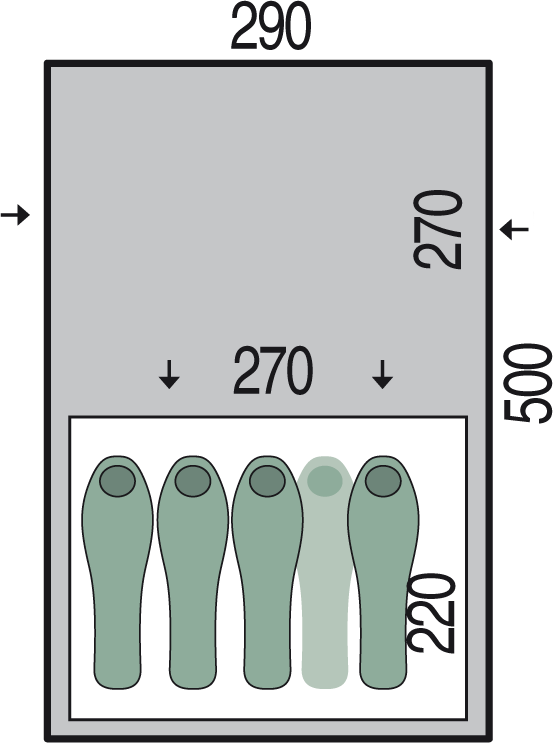 Description
The tent is double-layered and consists of an inner tent and an outer layer – rain fly. The inner tent has a rectangular floor plan with an entrance on its longest side. The outer tent has two entrances that can be supported and thus form a canopy over the entrance.
Tent concept
It is based on the principle that the tent pole structure strung in sleeves made of perforated material is outside the rain fly. Rain fly and the inner tent (which is suspended under the rain fly) are erected at the same time after threading the tent poles through the sleeves. The advantage of this method is that the inner tent can be detached from the rain fly, and the tropic can then be erected separately, resulting in a single-shell tent.
Větrání
Je umístěno ve vrcholu kopule rain fly. Stříšky větracích okének jsou tvarované tak, aby nebyly sklápěné větrem. Tím je zabráněno zatékání i při dešti se silným větrem.
Building a tent
Put the tent poles of the structure through the perforated sleeves outside the rain fly and insert the steel spikes strung on the floor near the rain fly into the tubes at the end of the tent poles. We fasten the inner tent to the loops on the inside of the rain fly. We anchor the erected tent with pegs and cords and fasten it with plastic clips.