Boulder 38
Main advantages
Camel bag pocket
Compression straps
Hipbelt is removable
Raincover
Removable back support
Walking sticks straps
Used materials
HICOR 3.0 RS
High performance and long lifetime fabric
High performance and long lifetime fabric
YKK Zippers
High quality Japan zippers
The zippers of the well-known Japanese manufacturer, which is one of the best zipper manufacturer in the world. The zippers of this brand guarantee quality, long lifespan and reliability. Components of small dimensions, but of great importance, because their trouble-free functionality is often a condition of the function and usability of the whole product.
Spony Duraflex X-Lite Easy Access
For easy handling with gloves
Detailed Description
Multifunctional Boulder 38
A versatile one-compartment backpack that will perfectly serve you on a mountaineering climb, in a downhill skiing trip or on a day-long tour.
While developing Boulder, we have been mindful of low weight but sufficient functionality. It also corresponds to its properties - fewer pockets and one chamber without bulkhead and no bottom entry.
Highlights of the backpacks are made of hardened ski loops, loops for ice axes and trekking poles, a rope strap and two side zip pockets.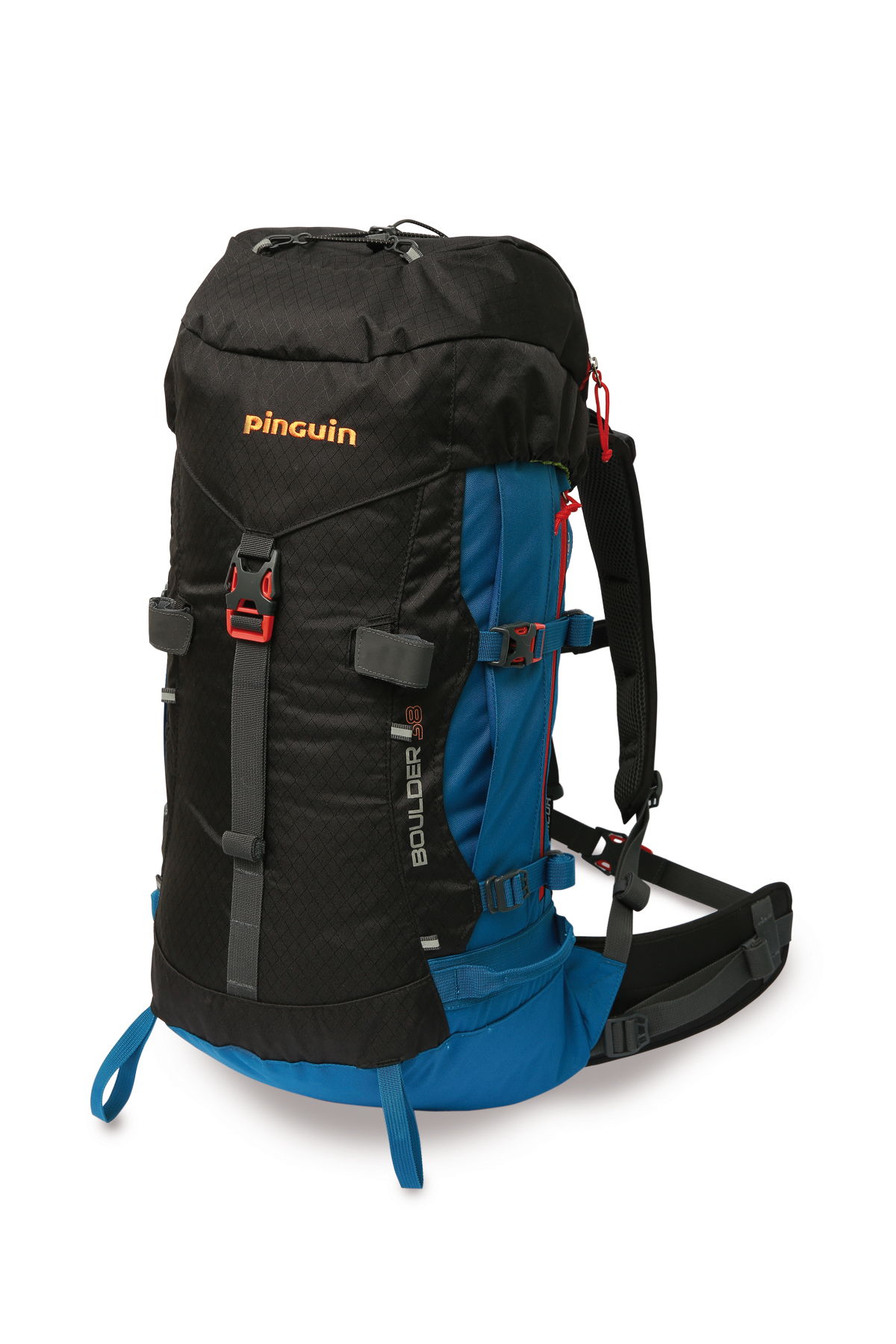 Technical specification
| | |
| --- | --- |
| Material | HICOR 3.0 RS; HICOR 6.0; Duraflex X-Lite Easy Access Buckles |
| Volume | 38 L |
| Weight | 1.3 kg |
| Amount of chambers | 1 |
| Outer / inner zipper pockets | 4/1 |
| Adjustable shoulder straps | Yes |
| Detachable hip belt | Yes |
| Integrated raincover | Yes |
| Camel bag - ready | Yes |
| Back system | 3D Mesh Back System |
| Zippers | YKK |
| Dimensions | 67 x 30 x 22 cm |
| Volume | 31L - 50L |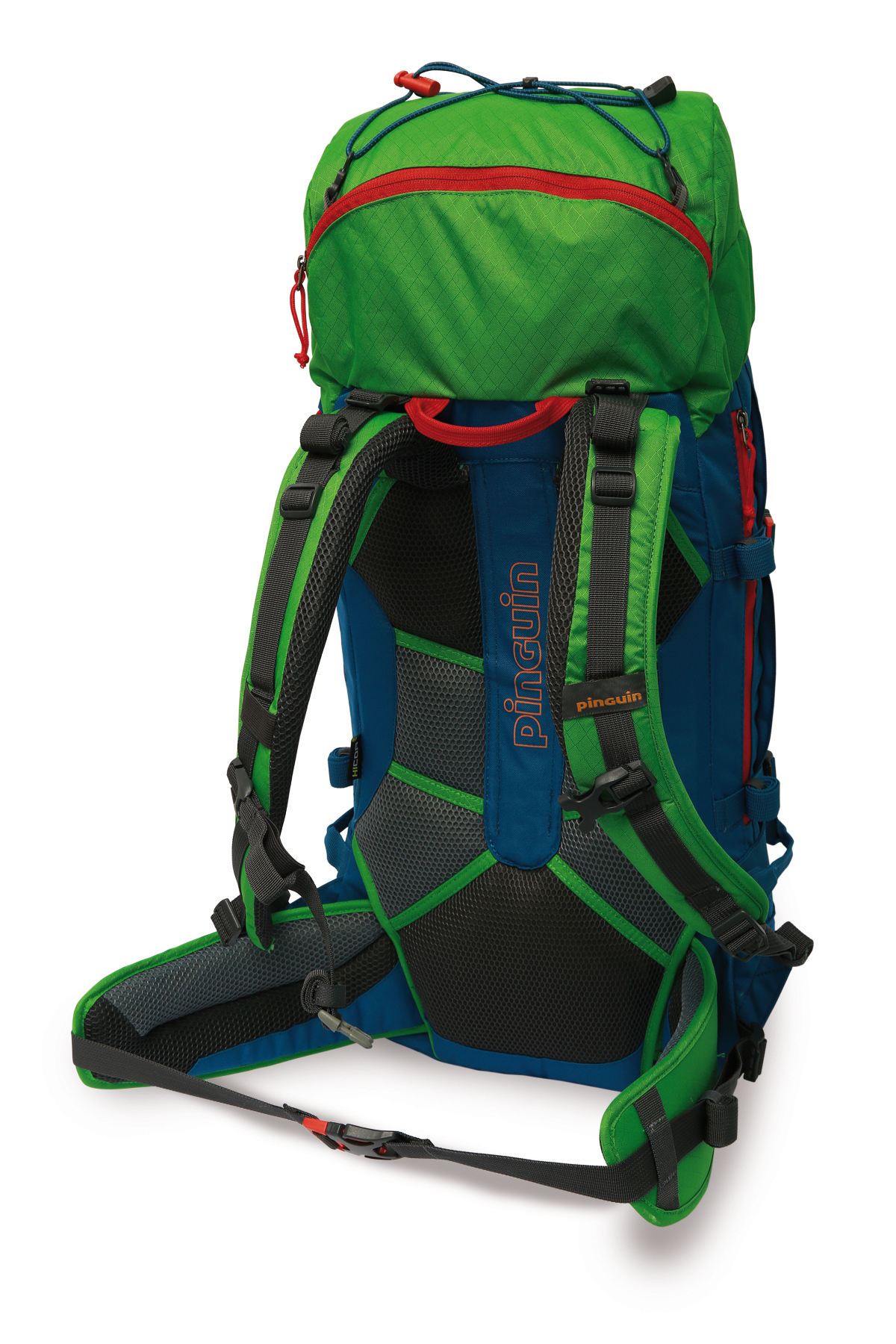 Detailed description
At the bottom of the backpack we can find a pocket with the raincoat you can unclip if necessary. Two loops for ice axes or trekking poles. At the same height on the sides, there are hardened ski loops with increased cut resistance. Two vertical zipped pockets. Pockets are crossed with two horizontal straps - one with an opening buckle and the other with a buckle for securing skis, another load or to compressing the backpack when underfilled.
The front of the backpack is fitted with a detachable elastics web. There are detachable ties for trekking poles at the same level.
The lid is equipped with two pockets. Bigger with back access, smaller underside. In the main chamber there is a pocket for a camelbag, a pulling strap for a rope and a removable duralumin reinforcement.
Essential advantages
Integrated raincoat
Loops for ice axe or trekking poles
Tightened ski loops on the sides
Reflective removable web made of elastic
Two large vertical slat pockets on the sides
Four straps (two with buckles) to compress the backpack and lock the load
Two pockets on the back of the backpack, one larger from the back and a smaller one from below
Camelbag pocket, opening and elastic bands for the hose
Adjustable chest strap
Detachable hip belt
3D mesh back system