Alpin Jacket
Main advantages
Large adjustable hood
The pockets do not obstruct the harness
Large air vents
Tightening at the bottom hem
Large pockets for gloves
Used materials
A.C.D. Membrane 2L
Water column: 20,000 mm Vapor permeability: 25,000 g H2O / 24h
Hydrophilic membrane, which is laminated to the outer textile material of sportswear. It provides perfect protection against bad weather and at the same time maintains a stable microclimate on the body surface at rest even under intense physical stress. It has been developed for active outdoor sports and its parameters will satisfy even the most demanding user comfort requirements
YKK WaterResistant zippers
Special waterproof zippers for waterproof clothing.
Zippers of a renowned Japanese manufacturer, which are among the best in the industry in the world. Zippers of this brand guarantee quality, durability and reliability. Components of small size but of great importance, because their trouble-free functionality is usually a condition for the functionality and usability of the whole product.
Nylon 6
Nylon 6 fibers are stiff, have high tensile strength, elasticity and gloss.
Nylon 6 is used in a wide range of products that require high strength materials. It is widely used for gears and bearings in the automotive industry. It is used in toothbrush bristles, as a thread for surgical seams and strings for acoustic and classical musical instruments, including guitars and violins. It is also used in the production of a large number of threads, ropes, fibers, nets and cords for tires.
Nylon 6 has the potential to be reused as a technical raw material for the production of the new Nylon 6. It can therefore be recycled.
Detailed Description
An all-weather companion
The Alpin is a popular jacket with the general public, especially due to its classic cut, extended back, and the ability to fit over the Fluidum and certain Fleece jackets which provide an inner insulation layer. In terms of material and cut, it's the shorter sibling of the Parker jacket, with no cinch cord at the waist. The Alpin is also a popular choice for recreational skiers as its pockets are large enough to be comfortably used with gloves. The hood is large enough to fit over a ski or mountaineering helmet and can be tightened with an elastic cord at both the hem and around the perimeter, giving you good all-round vision.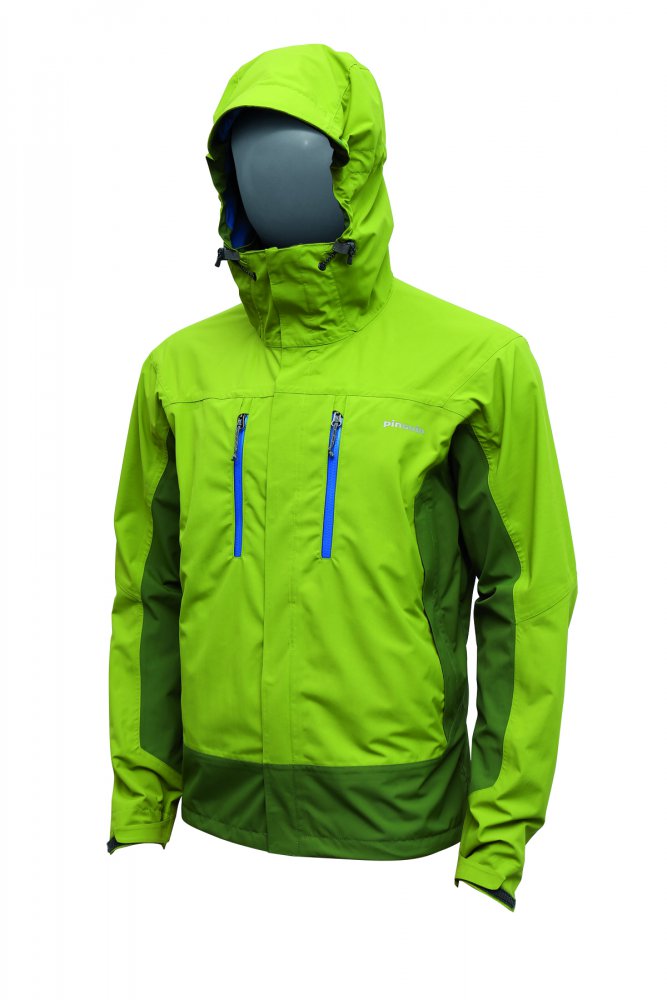 Technical specification
| | |
| --- | --- |
| Material | A.C.D. membrane 2L, Nylon 6 |
| Outer / inner zipper pockets | 4/1 |
| Zippers | YKK Waterproof |
| Water colum | 20000 mm H2O |
| Breathability | 25000 g H2O/m2*24h |
| Hood | Yes - Integrated, rollable to the collar |
| Snow hem | Yes - Removable |
| Waist constriction | No |
| Lower hem constriction | Yes |
| Avilable sizes | S - XXL |
| Weight (M) | 750 g |
| Type | Jackets |
| Usage | Waterproof |
| Gender | Unisex |
Technology supporting performance
The two-layer laminate with a laser-cut Japanese A.C.D. membrane, with fully taped seams, will keep you dry whether you're exposed to the rain, wind, or sweating on a strenuous climb. The pockets have flaps and waterproof YKK zippers, they are large enough to be comfortably used with gloves and their position means they can be easily used even when wearing a harness or backpack with a hip belt. The hood is large enough to fit over a ski helmet and can be tightened in two directions, both around the edge and horizontally at ear level to keep out the cold, but also gives you a good view and doesn't restrict that highly important peripheral vision on the ski slopes.
A summer shower or a cloudburst
The two-layer laminate with a highly flexible A.C.D. membrane boasts a water column of 20,000 mm and breathability of 25,000 g H2O/m2. In simple terms, this means that if you kneel in mud, for example, assuming the contact area is 10 cm2, you can weigh up to 200 kg and the membrane will not soak through. Two-layer laminate simply means that the membrane is pressed together with the top layer of fabric with a mesh lining on the inside to protect against mechanical damage.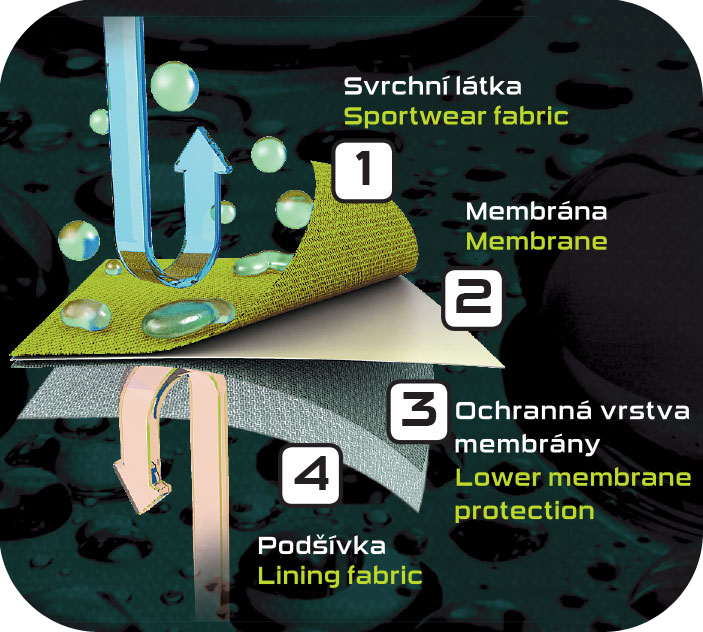 Quick summary
Cinch cord on the lower hem, which prevents the jacket riding up
Large ventilation holes with a flap and two sliders
Sufficiently large pockets that can be used with gloves
Large hood that fits over most types of helmet
The elastic cords on the hood tuck inside the jacket so they won't get in the way
The hood can be tightened in two directions, so that it fits snugly around your head without obstructing your view
A high collar to protect you from getting a sore throat
Conservative cut and understated colors
Size chart
Size chart AlpinJacket
| | S | M | L | XL | XXL |
| --- | --- | --- | --- | --- | --- |
| A | 55,5 | 58 | 62 | 64 | 66 |
| B | 57 | 59 | 62,5 | 63 | 66,5 |
| C | 70 | 72,5 | 75 | 77,5 | 81 |
| D | 65,5 | 69,5 | 72,5 | 73,5 | 75,5 |
| E | 25 | 27,5 | 28,5 | 29,5 | 30,5 |
| F | 13,5 | 14,5 | 14,5 | 15 | 15,5 |
| G | 11 | 11,5 | 12 | 12 | 12,5 |
| H | 87 | 91 | 93 | 96 | 99 |
Size chart Alpin Jacket