Vector 35
Main advantages
Camel bag pocket
Compression straps
Removable back support
Raincover
Reflective loop to fix flashlight
Walking sticks straps
Used materials
HICOR 3.0 RS
High performance and long lifetime fabric
High performance and long lifetime fabric
YKK Zippers
High quality Japan zippers
The zippers of the well-known Japanese manufacturer, which is one of the best zipper manufacturer in the world. The zippers of this brand guarantee quality, long lifespan and reliability. Components of small dimensions, but of great importance, because their trouble-free functionality is often a condition of the function and usability of the whole product.
Spony Duraflex X-Lite Easy Access
For easy handling with gloves
Detailed Description
Comfort and spaciousness, that's Vector
Versatile two-compartment backpack suitable for nature, cycling and other sports activities. With its large volume, it can accommodate the entire family for a day trip.
Sewn back system made of 3D foam is designed with the best possible ventilation with optimum load distribution.
The large entrances to both chambers, which can be unified if necessary, a very comfortable waist belt, compression straps for when the bag is not fully filled.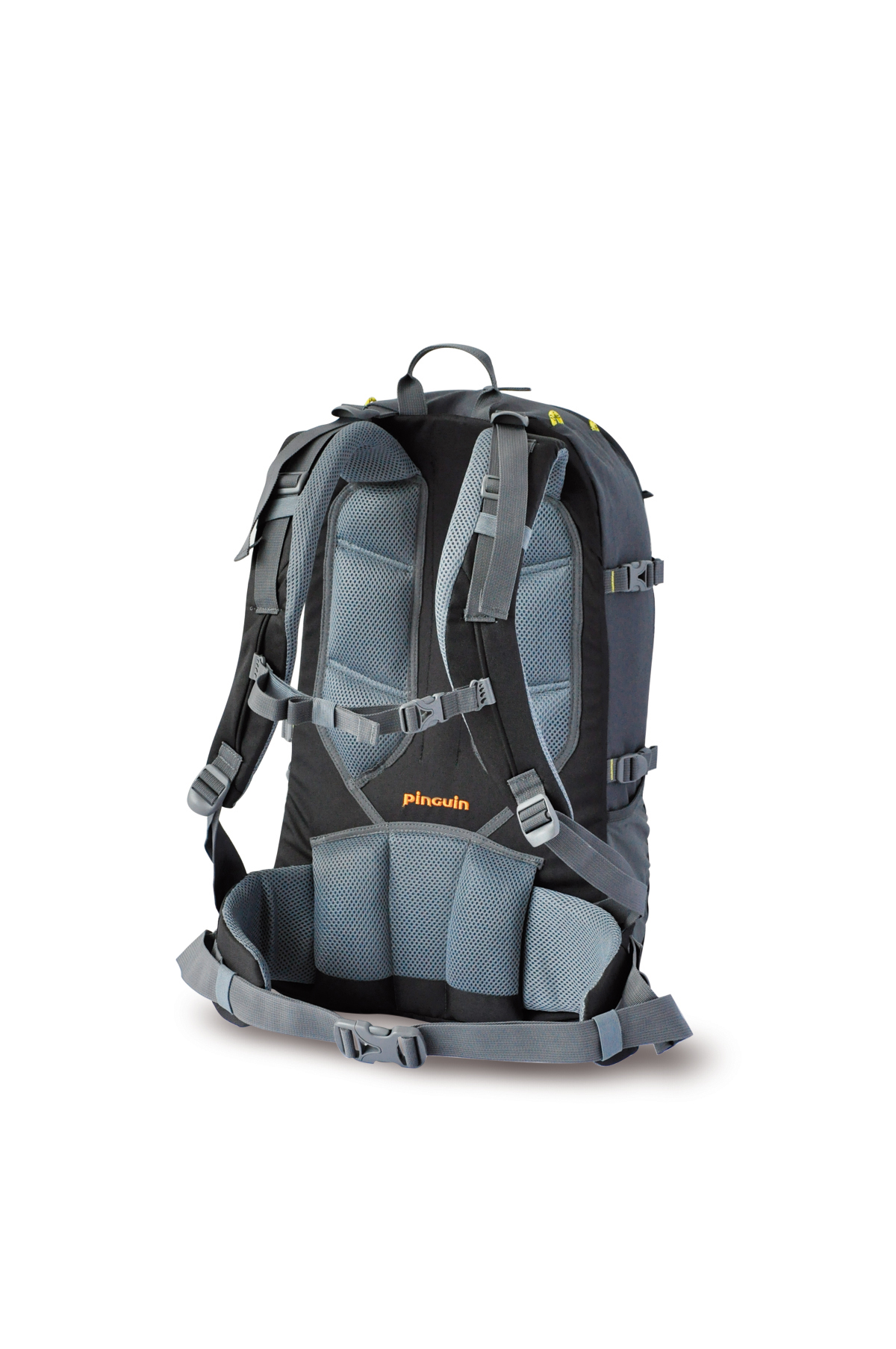 Technical specification
| | |
| --- | --- |
| Material | HICOR 3.0 RS; HICOR 6.0; Duraflex X-Lite Easy Access Buckles |
| Volume | 35 L |
| Weight | 1.35 kg |
| Amount of chambers | 2 |
| Outer / inner zipper pockets | |
| Adjustable shoulder straps | Yes |
| Detachable hip belt | Yes |
| Integrated raincover | Yes |
| Camel bag - ready | Yes |
| Back system | 3D Mesh Back System |
| Zippers | YKK |
| Dimensions | 56 x 31 x 22 cm |
| Volume | 31L - 50L |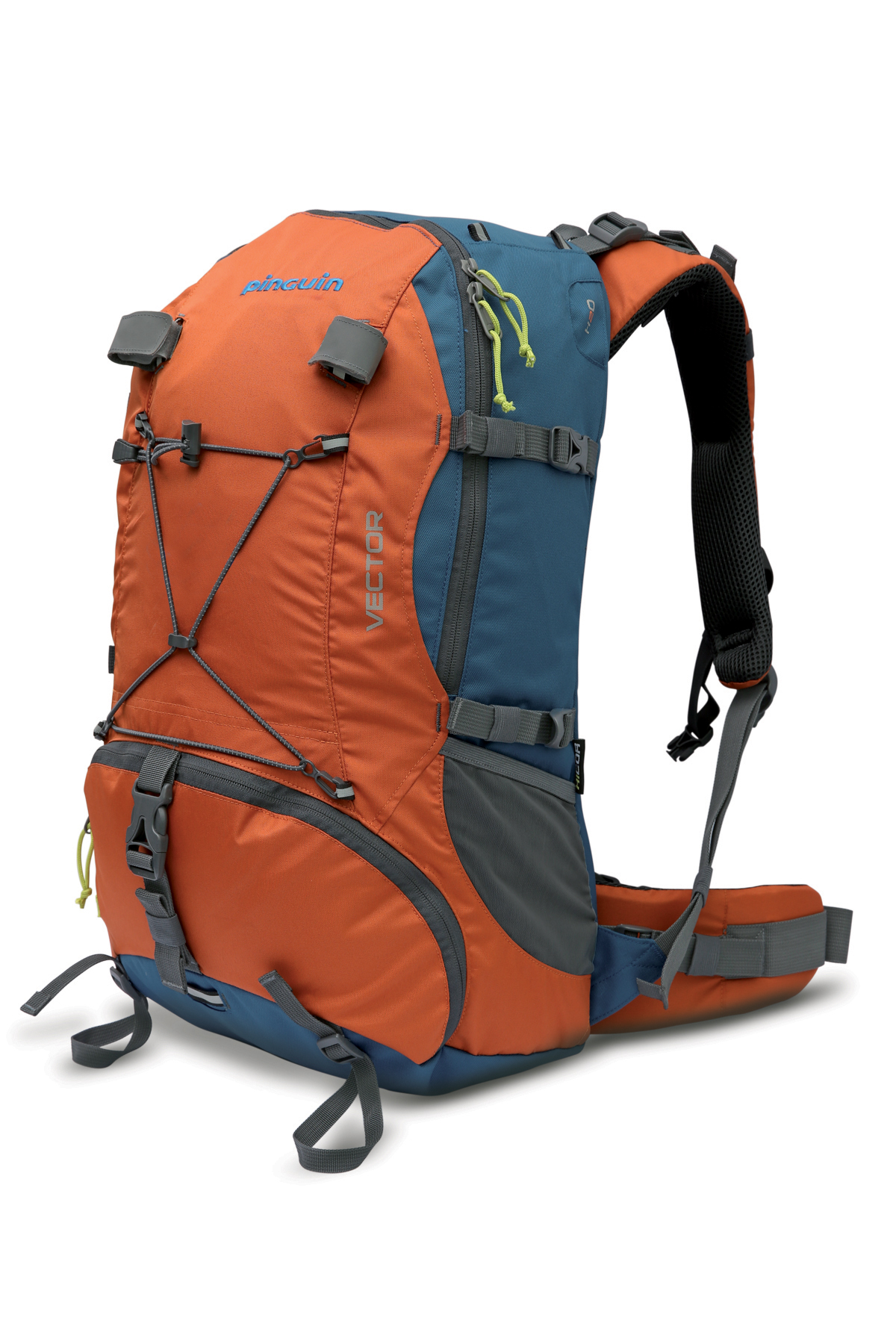 Plenty of storage space
The entrance to the lower chamber is equipped with a zipper with two sliders, the chamber can be conveniently opened and filled. The chambers are separated by a partition with zipper, which can be opened and create the big one.
On the sides, there are mesh stretch pockets and above them, there are tightening straps with buckles. A bit higher we find other straps with clips, they hold in the front of the slats. The slats do not only fulfill the design function, but behind the left one, we find a hidden pocket that copies the entire front of the backpack. This is more suitable for flat equipment such as a map or documents.
The upper chamber is equipped with a zipper with two riders, it can be opened, up to three quarters of the backpack height. The chamber has an inner zippered pocket and pocket for camelbag with velcro loops, inside the pocket, there is also a removable back reinforcement.
Reflective elements
On the front of the backpack, there is an elastic web with reflective elements, which can be detached and clipped to the top of the backpack on other loops with reflective print. You can also value the two reflective loops, which hold two removable loops for trekking poles.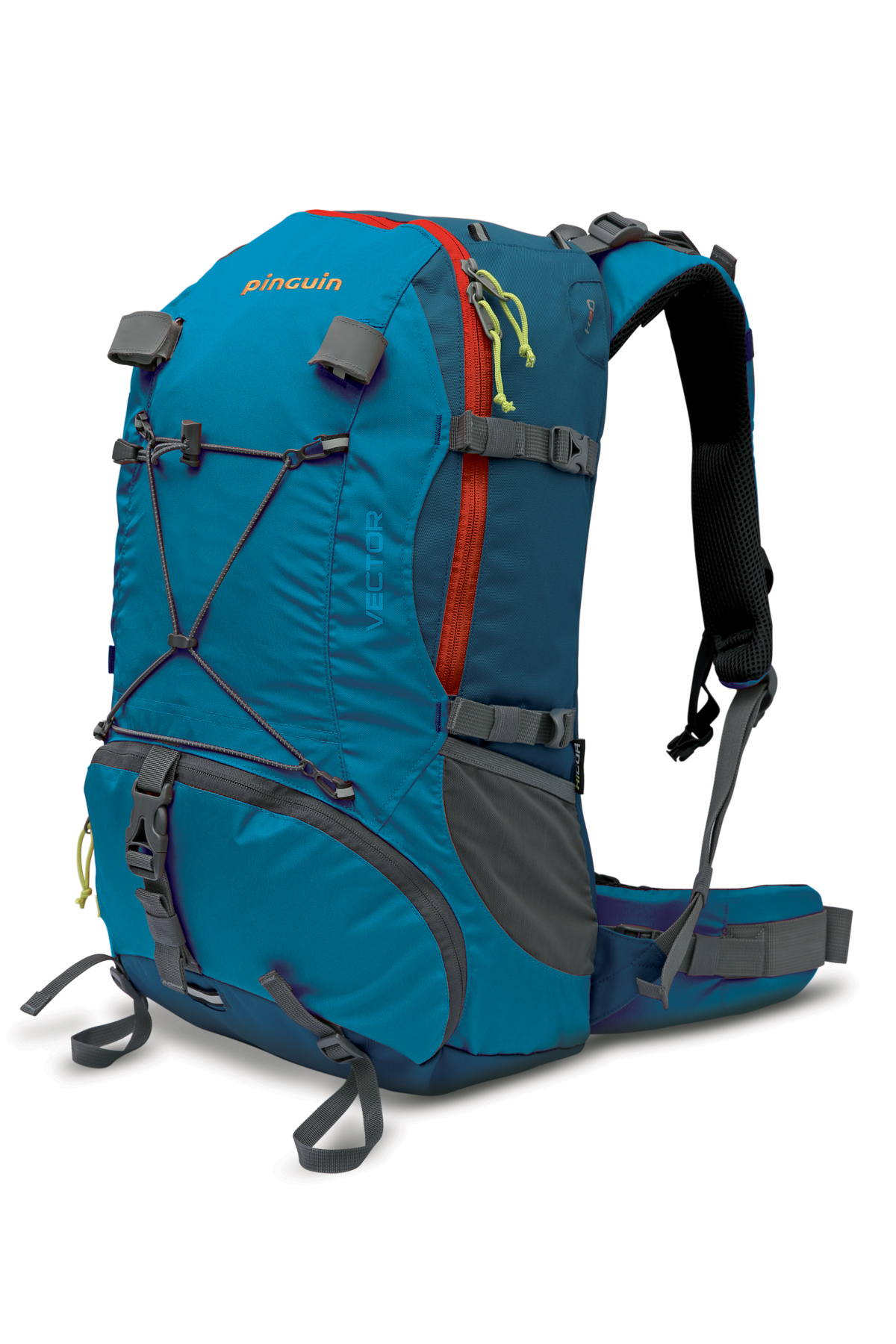 All weather support
The backpack also includes a detachable raincoat. It is hidden in a pocket with the inscription "Raincover". At night you will be delighted with a blinker loop with reflective print. Next to it, there are two larger loops for trekking poles or ice axes.
Equipment of Vector 35
Integrated raincoat
Reflective loop for bike blinker
Large opening of the lower chamber
The chambers are separated by a zipper partition with two riders
Reflective removable elastic web
Two mesh pockets on the sides
Four straps (two with buckles) to pull back the backpack and lock the load
Secret pocket hidden behind the hem of the backpack
Camelbag pocket, opening and elastic bands for the hose
Adjustable chest strap
removable hip belt
3D mesh back system