Stratos Pants
Main advantages
Large pockets for gloves
Detachable suspenders
Quiality belt included
Full-length unzippable trousers
Detachable snow boots
Reinforced exposed parts
Used materials
A.C.D. Membrane 3L
Water column: 30 000mm Vapor permeability: 25 000g H2O / 24h
So-called three-layer laminate, in which the following three layers are laminated: topsheet, A.C.D. and bottom diaphragm protection. The material thus obtained is intended for extreme wear, can withstand even higher water pressure while maintaining the vapor permeability of the two-layer membrane.
YKK WaterResistant zippers
Special waterproof zippers for waterproof clothing.
Zippers of a renowned Japanese manufacturer, which are among the best in the industry in the world. Zippers of this brand guarantee quality, durability and reliability. Components of small size but of great importance, because their trouble-free functionality is usually a condition for the functionality and usability of the whole product.
Nylon 6.6 Stretch
Flexible, highly durable fabric used to reinforce exposed areas
Elastic, very durable fabric made of specially treated Nylon fibers, which is used for particularly stressed items of clothing. Their elastic capability allows the range of movement to be increased, and the high abrasion resistance of this material (comparable to Cordura) prevents wear of these parts.
Detailed Description
Pants for the toughest conditions.
Stratos are high quality membrane trousers that will be appreciated especially by demanding fans of high-altitude activities such as mountaineering, drytooling or ski mountaineering. Once you experience them in action, you'll know that they were developed with real thought given not only to who will wear them, but also to how far they can go and in what situations they'll need 100% support. This is evidenced not only by the technical cut, which allows comfortable straddling, the reinforced exposed areas and the many pockets, but also by features such as full-length detachable legs or detachable snow gaiters.
The trousers also include suspenders, which are attached with Velcro fasteners, so they can be removed very easily. Also included is a belt with a metal quick release buckle.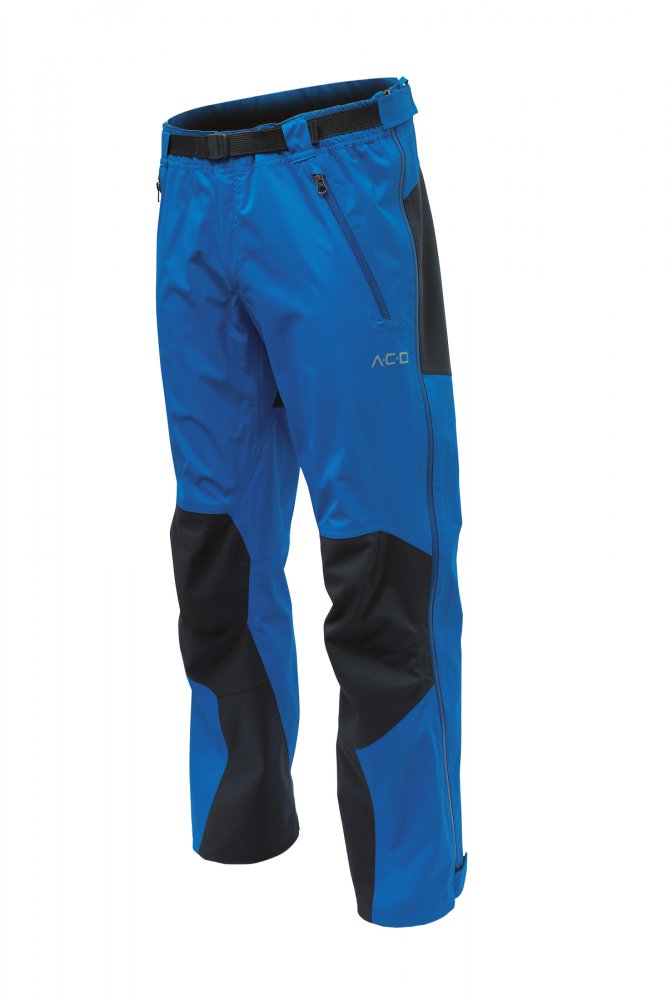 Technical specification
| | |
| --- | --- |
| Material | A.C.D. membrane 3L, Nylon 6 stretch, Nylon 6.6 Stretch |
| Zippers | YKK Waterproof |
| Water colum | 30000 mm H2O |
| Breathability | 25000 g H2O/m2*24h |
| Avilable sizes | S - XXL |
| Weight (M) | 664 g |
| Belt | Yes |
| Amount of pockets | 3 |
| Leg opening | Yes - full lenght |
| Type | Pants |
| Usage | Waterproof |
| Sex | Unisex |
Technology as support for performance
Three-layer laminate with Japanese A.C.D. membrane, laser-cut with 100% taped seams, keeps you dry whether you're exposed to rain, wind, or sweating during a strenuous climb.
Reinforcements in the shoulders, elbows and waist ensure high durability of these exposed areas and their protection against penetration by looms and harnesses.
The pockets are equipped with waterproof YKK zippers, are large enough for comfortable use in gloves and their location allows comfortable use even when the seat is on.
Summer rain or thunderstorm
The three-layer laminate with A.C.D. high resilience membrane boasts a water column of 30,000 mm and a breathability of 25,000 gH2O/m2.
In simple terms, this means that if you, for example, kneel down in the mud, assuming that the contact area is 10 cm2, you can weigh up to 300 kg and the membrane won't leak.
A three-layer laminate simply means that the membrane is sandwiched between two layers of fabric - an outer and an inner layer, so that it is protected against abrasion and against clogging of the pores.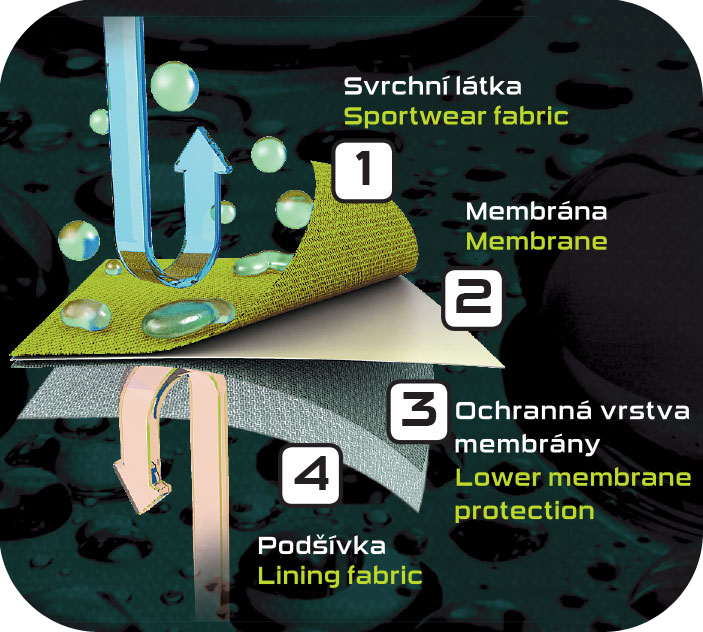 Stratos in a nutshell
Detachable snow boots
The trousers can be unzipped along the entire length
Large enough pockets for use with gloves
Quality belt with metal buckle
Detachable braces
The pockets are positioned so that they can be used comfortably even when wearing a harness
The cut allows for a wide straddle and a comfortable seat
Exposed areas are reinforced with high quality Nylon 6.6, comparable to Cordura
Size Chart