Materials and technology - Sleeping bags
---

(Body Heat Barrier) is a thermal insulation material, which, with its parameters, ranks among the top most powerful materials for extreme use on the current outdoor market. BHB Micro is used in the highest model line of Pinguin sleeping bags, where it replaces the previously used branded materials PrimaLoft® Sport and Polarguard 3D®. The inclusion of BHB Micro in the collection was preceded, among other things, by a series of comparative measurements in an accredited testing laboratory, where BHB Micro showed the highest values ​​of thermal resistance among all measured branded insulation materials.
The basis of BHB Micro thermal insulation are:
Siliconized ultrafine microfibers, the surface of which binds a large number of air molecules due to their microscopic dimensions
An excellent loft, which is achieved by combining microfibers with a structure of thicker hollow fibers
These two aspects prepare the optimal physical conditions for achieving its excellent thermal insulation parameters. BHB Micro is very light, soft, breathable, well compressible. Easy to maintain, washable, dries very quickly. Siliconized fibers repel water and, thanks to their density, form a barrier that partially protects the user against moisture and keeps him dry and warm even under extreme conditions. BHB Micro is a very successful replacement for feathers, but unlike it, it is very suitable for allergy sufferers.
---

ClimaControl Shield technology provides a balanced outer fabric, prevents warm air from leaking from inside while providing adequate breathability.
Optimizes the ratio between wind resistance to maintain heat and moist to prevent condensation.
A combination of these features provides user comfort and a favorable interior climate of the sleeping bag
The waterrepellent treatment provides sufficient protection against adverse weather conditions.
Fabric with Clima Control Shield finish is lightweight, foldable and soft to the touch.
---
Polyester DWR
Outer material with water-repellent finish.
Thanks to the DWR treatment, the fabric is highly non-absorbent and water-repellent, and the drops tend to run down it, so it can withstand even shorter drizzle or morning dew.
---
Polyester Softlite
Brushed polyester pleasant to the touch Thanks to the SoftLite treatment, this fabric is very pleasant to the touch, almost giving the impression of cotton. Unlike it, however, it dries much better, lasts longer and is much easier to recognize.
---

THERMICFIBRE PFM is a new generation thermal insulation material consisting of a mixture of siliconized hollow fibers with a very small diameter comparable to microfiber.
The high thermal resistance of the fibers results from the ability to bind large quantities of air molecules not only inside the cavity, but also on the surface of the fibers due to the microdiameter.
Siliconization of the surface fixes the fibers in their mutual position, thus achieving the effect of a spring - a high loft of the thermal insulation layer, at low weight and excellent packability.
Thermicfibre PFM is a non absorbent material with a water repellent finish, dries quickly, insulates perfectly even in high air humidity, is absolutely non allergic, very soft and user friendly.
Easy to maintain, machine washable and machine dryable.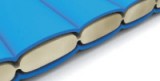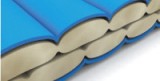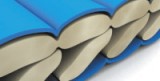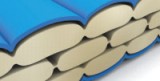 One-layer insulation | Two-layer insulation | 2-L Shingle insulation | Three-layer insulation
---

Zippers from a renowned Japanese manufacturer, which are among the best that are produced in this field in the world.
Zippers of this brand guarantee quality, long life and reliability. Components of small dimensions but of great importance, because their trouble-free functionality is usually a condition for the function and usability of the entire product.
---