Glimmer Hoody
Main advantages
Large adjustable hood
Tightening at the bottom hem
Great poackability
Used materials
BHB Synthetic Down
Synthetic alternative to down.
BHB synthetic down combines benefits of natural down such as great insulation performance, high loft, light weight and high compressibility together with sythetic yarn insulation benefits such as high wet weather insulation performace and allergic individual suitability.
YKK Zippers
High quality Japan zippers
The zippers of the well-known Japanese manufacturer, which is one of the best zipper manufacturer in the world. The zippers of this brand guarantee quality, long lifespan and reliability. Components of small dimensions, but of great importance, because their trouble-free functionality is often a condition of the function and usability of the whole product.
Nylon Featherlite RipStop DWR
Very light and strong nylon fabric with RipStop binding and DWR water-repellent finish
Nylon Featherlite RipStop DWR is a densely woven, very lightweight and breathable Nylon fabric with an unpalatable and waterproof finish. It is thanks to the densely woven fibers that it stops a very strong wind, but at the same time allows your body to breathe freely.
RipStop adjustment ensures that if you tear the jacket, it will not mate anymore, but stops by one of the regularly placed thicker fibers.
DWR will cause any rain to flow freely over the material, rather than soaking into the cartridge.
Detailed Description
Be stylish with every step
A synthetic insulated jacket for the coldest temperatures - that's the Glimmer. BHB Synthetic Down combines the best of synthetics and down - it's lightweight, compressible, warming even when wet, easy to maintain and is suitable for allergy sufferers.
You can use it on its own or as a layer of insulation under a membrane. Thanks to its sporty design, it's perfect for various outdoor winter activities, from skiing to building a snowman or alpine trekking.
A great feature is the two-way YKK main zip, which allows you to secure a harness or adjust your trousers or bottom layer without unzipping the entire jacket.
The two outer pockets for your hands and two inner breast pockets are all fitted with YKK zips. The sleeve and hood have elastic hems. It doesn't matter if you wear it to town, when out shopping, in the woods with your dog or climbing the peaks, all that matters is that it makes you feel great whatever the conditions.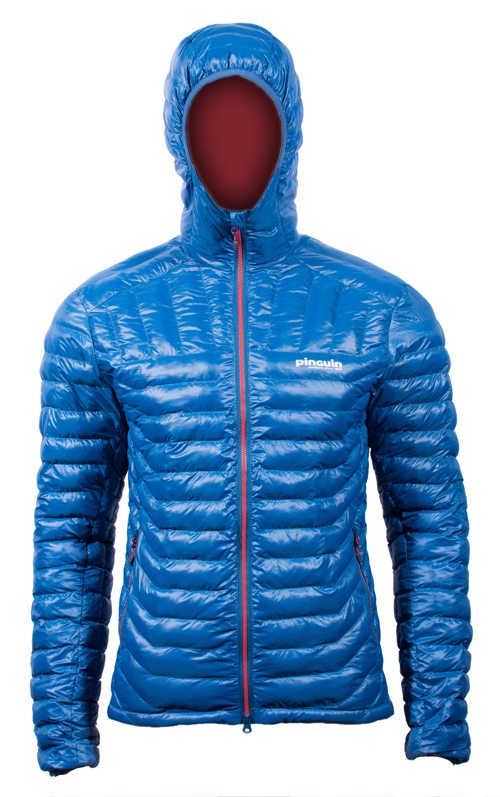 Technical specification
| | |
| --- | --- |
| Material | BHB Synthetic Down, Nylon Featherlite RipStop DWR |
| Outer / inner zipper pockets | 2/2 |
| Zippers | YKK |
| Hood | Yes - Integrated |
| Snow hem | No |
| Waist constriction | No |
| Lower hem constriction | Yes |
| Avilable sizes | S - XXL |
| Weight (M) | 430 g |
| Carry bag | Yes |
| Type | Jackets |
| Usage | Insulated |
| Sex | Men |
Technology supporting performance
BHB Synthetic down keeps you warm wherever you go, it's anti-allergenic, packs down easily, it's lightweight, low maintenance and keeps you warm even when wet.
The Glimmer jacket's filling is equivalent to 600 CUIN of natural down. The outer layer is made of Nylon Featherlite RipStop DWR, which is a densely woven, very lightweight and breathable fabric made of Nylon with a durable and water repellent coating. The densely woven fibres block even strong winds, while allowing your body to breathe freely.
The
RipStop coating ensures that if you rip the jacket, it will not tear further, but will stop on one of the regularly placed thicker threads.
DWR is a surface treatment for fabric that increases its resistance to external factors such as moisture or dust.
Quick summary
Insulated with BHB FeatherLite synthetic filling
Bottom hem cinch cord
Sufficiently large pockets that can be used with gloves
Sleeves with elastic hems
The hood has an elastic hem and can be tightened around the perimeter with an elastic cord
A high collar to protect you from a sore throat
Very light and packs down easily
Two inner breast pockets
Size chart Glimmer Hoody
| | S | M | L | XL | XXL |
| --- | --- | --- | --- | --- | --- |
| A | - | 54 | 58 | 60 | 64 |
| B | - | 52 | 54 | 59 | 62 |
| C | - | 69 | 73 | 77 | 83 |
| D | - | 65 | 69 | 75 | 79 |
| E | - | 25 | 28 | 29 | 31 |
| F | - | 13 | 13 | 13 | 13 |
| G | - | 9 | 9 | 10 | 10 |
| H | - | 89 | 94 | 98 | 101 |