Trekking PFM
Main advantages
High reliability
Great price / performance ratio
Possibility to connect L+R
Used materials
Thermic Fibre PFM
The new generation thermal insulation material is composed of a mixture of siliconised hollow fibres with a very small diameter close to microfibre.
The high thermal resistance of the fibers results from their ability to bind large amounts of air molecules not only inside the cavity, but also on the surface of the fibers due to their micrometer diameter.
The siliconisation of the surface fixes the fibres in their relative position, thus achieving a spring effect - i.e. a high loft of the thermal insulation layer, with low weight and excellent packability.
Thermicfibre PFM is a non-absorbent material with a water repellent finish, dries quickly, insulates excellently even in high humidity, is absolutely non-allergenic, very soft and user-friendly.
Easy to care for, machine washable on a gentle programme and tumble dry.
Polyester DWR ClimaControl Shield
Technology of the outer fabric of the sleeping bag, increasing its efficiency and effectiveness.
It provides a balanced outer fabric, preventing warm air from escaping from the inside while ensuring adequate breathability.
Optimises the balance between windproofing to retain warmth and venting internal moisture to prevent condensation.
The combination of these properties ensures user comfort and a favourable internal climate of the sleeping bag.
The water-repellent finish provides sufficient protection against adverse weather conditions.
The Clima Control Shield fabric is lightweight, packable and soft to the touch.
Polyester Micro Lite
Brushed polyester pleasant to the touch
Thanks to the Micro lite treatment, this fabric is very pleasant to the touch, almost to the point of giving the impression of cotton. In contrast, it dries much better, lasts longer and is much lighter.
Detailed Description
When another one doesn't suit you.
There is certainly a considerable percentage of people who do not have a ready-made figure and because of this they have trouble finding a sleeping bag that fits them. For those of you, we have Trekking. It is a quality three-season sleeping bag, suitable for both camping and hiking in the mountains.
Thanks to the DWR treatment, you don't have to worry about morning dew and can even handle light drizzle and ultra-thin fiber ThermicFibre PFM will keep you warm even in sub-freezing temperatures. Convenient packing is ensured by the supplied compression package.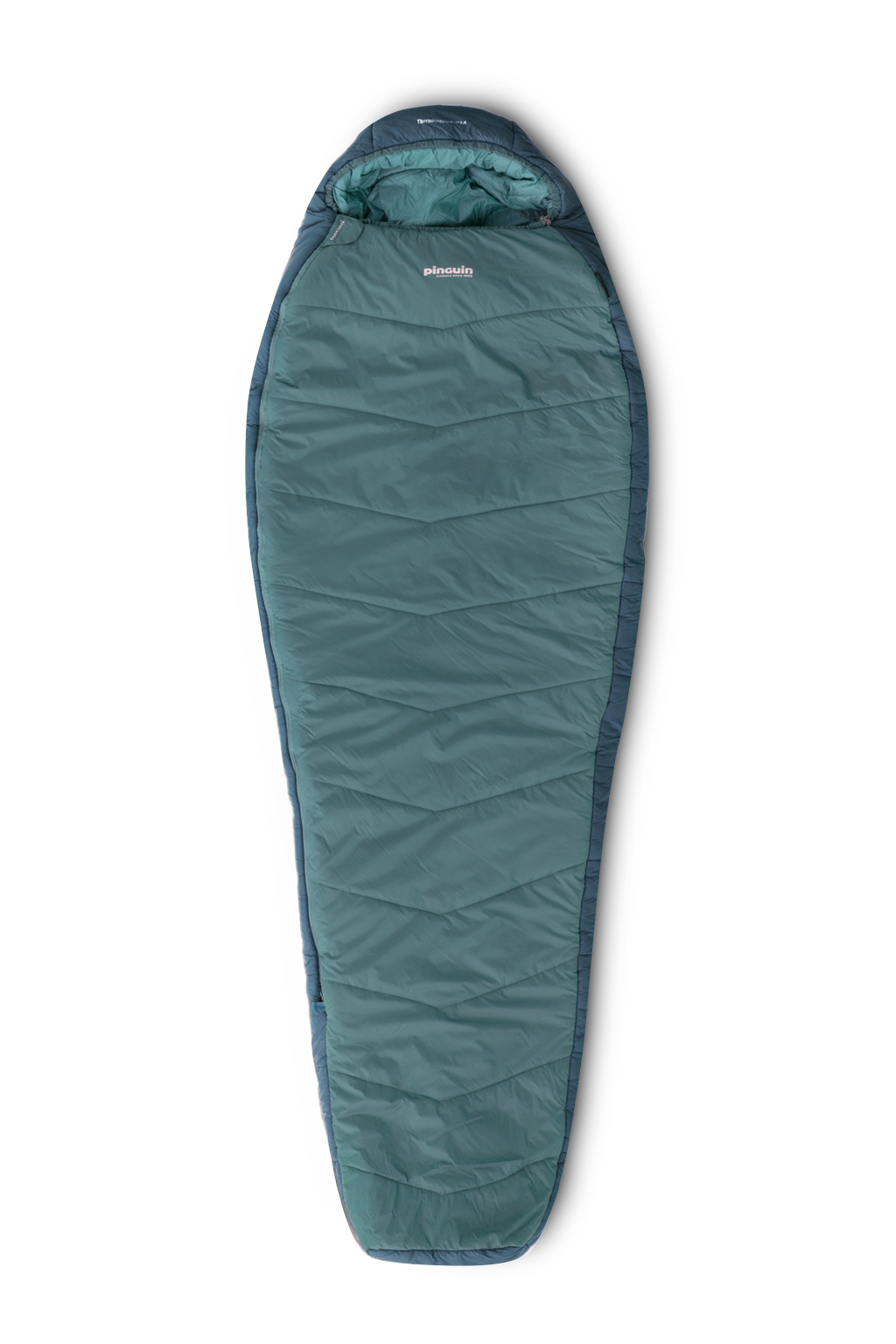 Technical specification
features:
Weight
1.8 kg
Zippers
Insulation technology
Syntethetic - ThermicFibre
Insulation
Insulation thickness
Two-layer
Outer material
Inner material
Nylon, 2x
User's height
175/190/205 cm
Width (max/min)
85/55 cm
Packed volume
16 L
Kompressed volume
11 L
Connectability (L+R)
Yes
Packed / compressed dimensions
22x42/29 cm
Shape
Mummy
Type
Men (185 - 205 cm)
Season
Three-season
features:
Comfort
1 °C
Limit
-5 °C
Extreme
-21 °C
So that it is not cold.
Because we know that cold is the number one enemy for sleep, we fight against it with all possible means.
The SBS zip is, of course, double-sided and can be closed both from the inside and from the outside. In addition, it is equipped with a vent on the inside, which effectively prevents air from blowing through it. In addition, it is padded, so that even the princess wouldn't wake up if it were to fall on the zipper.
Just behind the head hole is the shoulder collar. After being pulled down, it retains the heat inside the sleeping bag very well and at the same time prevents the user from inhaling steam from the mouth.
It will seem like a banality, but who among us would think of carrying clothes pegs into nature? That's why we equipped our sleeping bags with two loops for easier hanging and faster drying.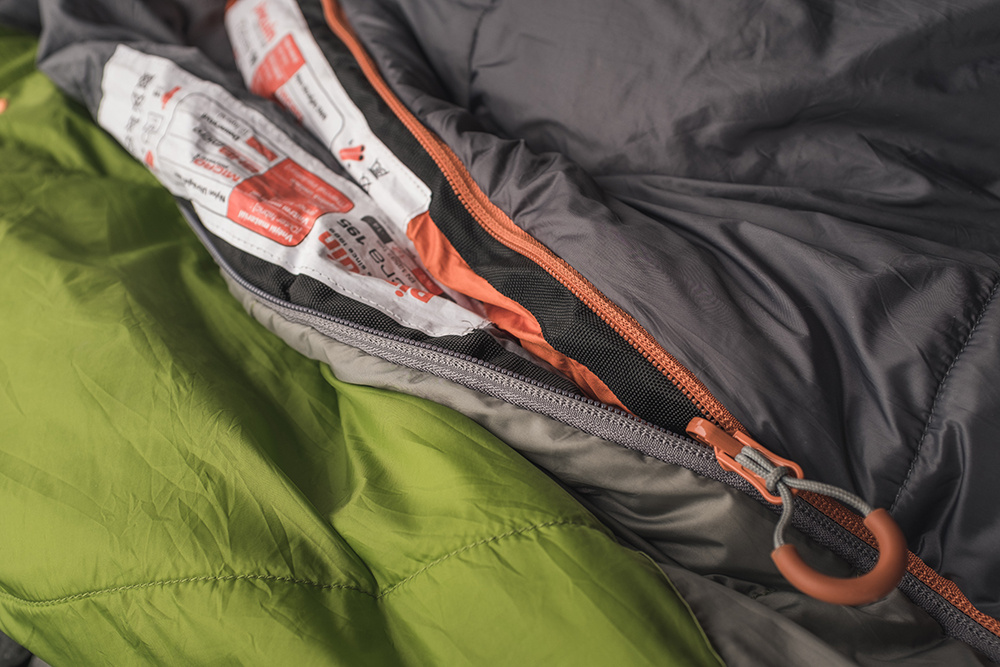 Singles and couples.
Thanks to the location of the zipper on the left or right side, it is possible to connect not only two Trekkings together, but also Trekking with all mummy sleeping bags with filling ThermicFibre PFM, which couples in love will certainly appreciate. In addition, this functionality significantly increases thermal comfort.
ThermicFibre PFM double-layer thermal insulation (2x150g/m2)
Double-layer thermal insulation ensures that cold joints do not form in the filling. This means that the filling is made of two layers of fleece on top of each other, where one layer is sewn at intervals to the upper fabric and the second layer is similarly sewn to the lower fabric, only the seams are shifted so that they do not overlap anywhere.
Clima Control Shield Technology
ClimaControl Shield (CCS) technology provides a balanced outer fabric, prevents the escape of warm air from the inside and at the same time ensures adequate breathability.
It optimizes the ratio between windproofness to retain warmth and internal moisture ventilation to prevent condensation.
The combination of these properties ensures user comfort and a favorable internal climate of the sleeping bag.
The water-repellent treatment provides sufficient protection against adverse weather effects.
Fabric with Clima Control Shield it is light, packable and soft to the touch.