Topas CCS
Main advantages
Great poackability
Low weight
Possibility to connect L+R
Used materials
YKK Zippers
High quality Japan zippers
The zippers of the well-known Japanese manufacturer, which is one of the best zipper manufacturer in the world. The zippers of this brand guarantee quality, long lifespan and reliability. Components of small dimensions, but of great importance, because their trouble-free functionality is often a condition of the function and usability of the whole product.
BHB Micro
Synthetic insulation filling, great substitution of down.
BHB Micro (Body Heat Barrier) is thermoinsulation material, which is set between the most powerful materials for extreme use. BHB Micro is being used in the highest series of the Pinguin sleeping bags, where substituted earlier used branded materials susch as PrimaLoft® Sport and Polarguard 3D®. Includeíng the BHB Micro into the collection was preceded by series of comparative measurements in the accredited testing laboratory where BHB Micro exhibited the highest values ​​of thermal resistance among all branded insulating materials.
Nylon Ultralight DWR
Very light and sturdy nylon txtile with DWR waterresistant modification
Detailed Description
A reliable friend who will not betray you.
Topas will be a great choice for all those who like to sleep in nature and often, for those who don't mind if it rains at night and are not scared by unfavorable weather forecasts. A three-season sleeping bag with a temperature comfort of around -7°C, you will be able to use it for most of the year and with packability that could already be compared to the properties of down filling, enhanced by the compression bag supplied as standard, it will fit perfectly in your backpack. In addition, compared to feathers, it is hypoallergenic and does not mind water at all.
Climate Control Shield
ClimaControl Shield (CCS) technology provides a balanced outer fabric, prevents the escape of warm air from the inside and at the same time ensures adequate breathability.
It optimizes the ratio between windproofness to retain warmth and internal moisture ventilation to prevent condensation.
The combination of these properties ensures user comfort and a favorable internal climate of the sleeping bag.
The water-repellent treatment provides sufficient protection against adverse weather effects.
Fabric with Clima Control Shield it is light, packable and soft to the touch.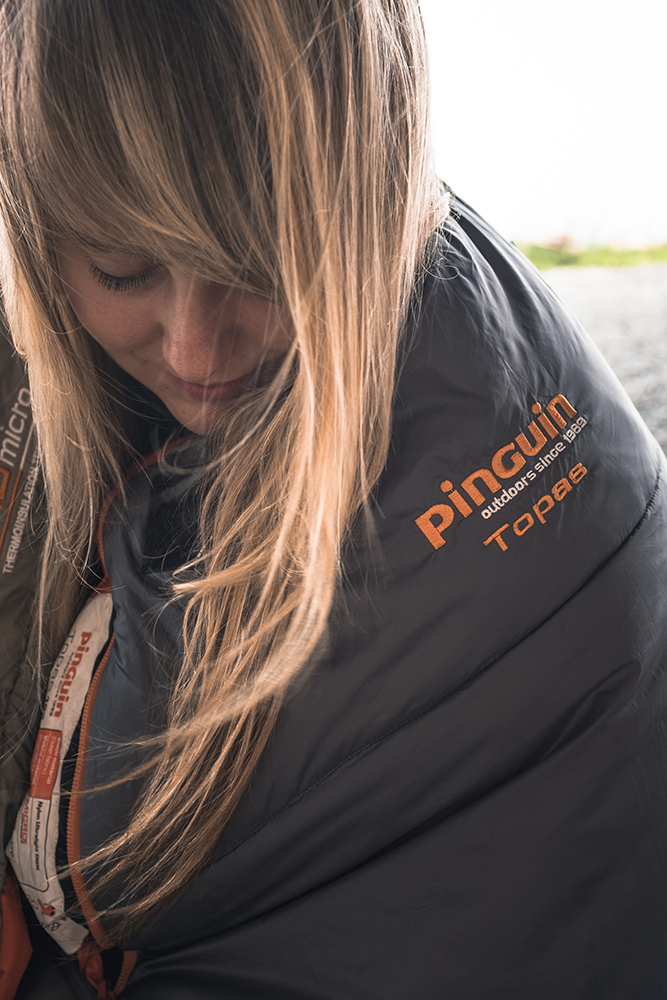 Technical specification
features:
Weight
1.42 kg
Zippers
YKK
Insulation technology
Synthetic - BHB Micro
Insulation
BHB Micro 200g/m2
Insulation thickness
Two-layer shingle
Outer material
Nylon Ultralight Ripstop DWR CCS
Inner material
Polyester Ultra-Lite
User's height
175/185/195
Width (max/min)
82/55 cm
Packed volume
12.54 L
Kompressed volume
7.41 L
Connectability (L+R)
Yes
Packed / compressed dimensions
Shape
Mummy
Type
Men (185 - 205 cm)
Season
Three-season
features:
Comfort
-1 °C
Limit
-7 °C
Extreme
-25 °C
So that it is not cold.
Because we know that cold is the number one enemy for sleep, we fight against it with all possible means.
The zipper is, of course, double-sided and can be closed both from the inside and from the outside. In addition, it is equipped with a flap on the inside, which effectively prevents air from blowing through it. In addition, it is padded, so that even the princess wouldn't wake up if it were to fall on the zipper.
Just behind the head hole is the shoulder collar. After being pulled down, it retains the heat inside the sleeping bag very well and at the same time prevents the user from inhaling steam from the mouth.
It will seem like a banality, but who among us would think of carrying clothes pegs into nature? That's why we equipped our sleeping bags with two loops for easier hanging and faster drying.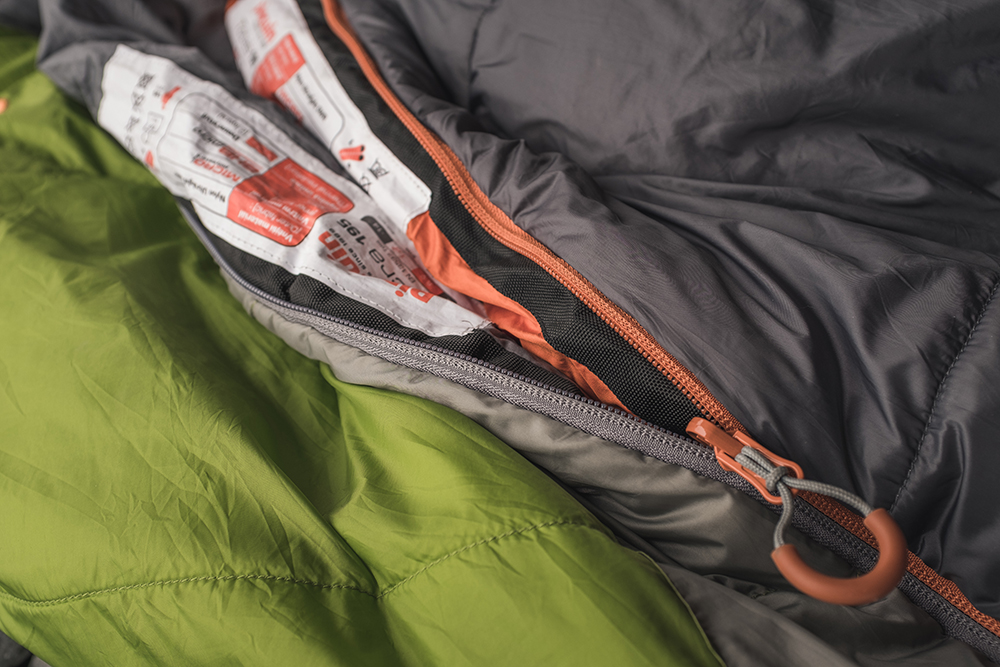 Individuals and couples.
Thanks to the location of the zipper on the left or right side, it is possible to connect not only two Topas together, but also a Topas with Micro or Spirit, which is sure to be appreciated especially by couples in love. In addition, this functionality significantly increases thermal comfort
Notice: Due to the different length of the zippers of the 175cm variant, only sizes 175 can be connected to each other or 185 - 195 to each other.
Two-layer shingle thermal insulation BHB Micro (2x100g/m2)
Here, the insulating fleece is sewn in such a way that one layer, as with double-layer insulation, is sewn to the outer fabric, but the second layer is cut into shingles, which are sewn on one side to the inner fabric and the other side to the outer fabric. Thanks to this technology, there are three overlapping layers of insulation on approximately half of the surface of the sleeping bag and two on the other half. It could be said that it is an intermediate stage between two-layer and three-layer insulation, which makes Topas an ideal three-season sleeping bag usable from spring to autumn.