Summit men Jacket
Main advantages
Circumferently adjustable hood
Tightening at the bottom hem
Stretch fabric
Seamless fabric
Used materials
Nylon
Fabrics made of this fibre are used wherever very high mechanical strength, flexibility, stiffness and good hot stability are required.
Spandex
It is a synthetic polymer fibre, also known as Elastane or Lycra, developed in 1958 in the laboratories of DuPont.
It is used in the production of technical fabrics where it is blended with other durable materials (Nylon, Polyester). Its excellent elasticity leads to increased comfort and durability of fabrics in which this fibre is used.
C6 DWR
It is currently the most effective water-repellent fabric treatment with faster degradation and low environmental impact.
Compared to the widely used C8 treatment in the past, which was very powerful but very poorly biodegradable.
Airtastic™
Series of fabrics ''made of TORAY'' characterized by dense weaving of fibres up to 20D diameter.
The key features of this series of fabrics are their very low weight, resistance to blowing out due to the dense weaving, but on the other hand very high breathability.
Airtastic is a trademark of Toray Industries, Inc.
'TORAY'
Toray Industries, Inc. Founded in 1926 in Japan as a silk thread manufacturing company.
Over time, Toray has expanded its operations to 26 countries and continues to develop high-performance fiber applications in regions around the world for high value-added products created in the manufacturing core, which is still Japan.
Duck down
600 cuin, 90/10 down
One of the best natural insulators is duck down feathers. It's what we use to fill Hill jackets with 650 Cuin. The down is mixed with small feathers in a 90/10 ratio - this is because the small feathers are flexible and help maintain the shape of the chambers and the fluffiness of the material.
Detailed Description
Less seams = greater thermal comfort
The outer layer of the jacket consists of a lightweight stretch double-layer fabric made of Airtastic developed by the company Toray Japan. It is a very lightweight and breathable fabric made from densely woven fine fibre Nylon with the addition of elastic Spandex.
Unique two-layer fabric construction with woven joints replacing the seams of the individual chambers eliminates warm air leakage through the seams and in combination with high-performance water-repellent treatment C6 DWR increases the jacket's resistance to moisture ingress.
Thanks to the tightly woven fibres, it stops even very strong winds, but at the same time allows your body to breathe freely.
Added elastic thread Spandex increases the comfort of the jacket during movement.
Technical specification
| | |
| --- | --- |
| Material | Nylon |
| Outer / inner zipper pockets | 2/2 |
| Zippers | YKK |
| Hood | Yes - Integrated |
| Snow hem | No |
| Waist constriction | No |
| Lower hem constriction | Yes |
| Avilable sizes | S - XXL |
| Weight (M) | 497 g |
| Carry bag | Yes |
| Type | Jackets |
| Usage | Insulated |
| Sex | Men |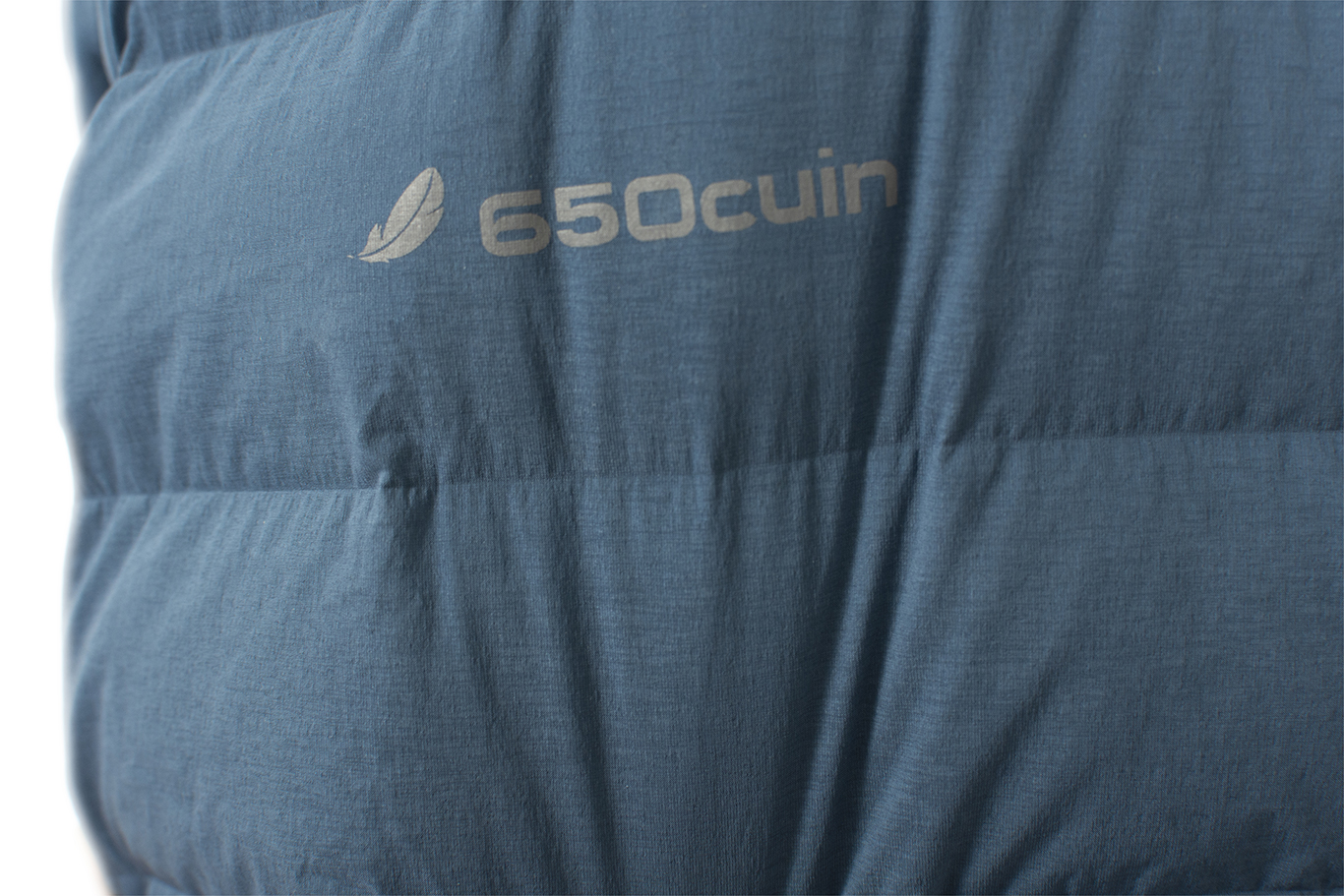 Filling
One of the best natural insulators is down feathers. We fill our Summit jackets with duck down feathers at 650cuin. Down feathers are mixed with small feathers in a 90/10 ratio - this is because small feathers are flexible and help to keep the material fluffy (called loft).
We use certified feathers from ducks raised for meat in our products. In such farming, the birds are not abused by plucking the feathers alive. The feathers are then cleaned and treated to achieve the desired properties.
In short
​seamless and flexible fabric TORAY
hood adjustable around the circumference
2 front pockets with YKK zippers
2 vnitřní náprsní kapsy se zipy YKK
drawstring at hem
sleeve and hood hems finished with elasticated trim
Size Chart Summit Men Jacket
| | S | M | L | XL | XXL |
| --- | --- | --- | --- | --- | --- |
| A | 52 | 54 | 57 | 60 | 63 |
| B | 51 | 53 | 56 | 58 | 61 |
| C | 70 | 73 | 77 | 78 | 81 |
| D | 66 | 70 | 72 | 74 | 76 |
| E | 23 | 24 | 24,5 | 25 | 26 |
| F | 14 | 14,5 | 15 | 15,5 | 16,5 |
| G | 8,5 | 8,5 | 9 | 9 | 9 |
| H | 91 | 95 | 99 | 103 | 106 |