Gemini 150 Extreme Snow
Main advantages
High strength and stability of the structure
High reliability
Great poackability
Snow collars
Used materials
Siliconization
A highly effective and timeless water-repellent effect is achieved by applying a silicone treatment to the tent's canopy.
In this technological process, the fibres of the fabric are impregnated with silicone, making the fabric extremely water-repellent with self-cleaning ability. The so-called lotus blossom effect occurs, where water droplets are repelled from the surface of the fleece, water is not retained in the fabric even when it is imperfectly switched off and quickly drains off in the form of droplets, taking all the dirt with it. Another important effect of siliconisation is a significant increase in the strength, elasticity and tear resistance of the siliconised fibres of the fabric.
Ripstop
is a fabric manufacturing technology designed to increase resistance to mechanical damage while maintaining weight
At regular intervals, thicker fibers forming a grid are woven transversely and longitudinally into the tropic material, thereby preventing further crack propagation if the fabric is torn.
The construction of tents of the Extreme series is suitable for use in the most difficult expedition conditions thanks to the use of stainless duralloy with high strength (higher than 7001 T6) and high rigidity.Precise design and surface treatment minimize the risk of defects.
Detailed Description
Gemini 150 Extreme Snow
The winter version of the Gemini 150 Extreme model with snow collars for especially difficult weather conditions has a rigid rod construction made of Dural alloy 7075 T9, an ultralight Nylon Ripstop fabric on the tropics with UV protection saves weight.
Tropiko is made of Nylon with RipStop treatment and triple double-sided siliconization, guaranteeing a water column of 4,000 mm. The seams of the tropic are not glued, but expansion threads are used, which multiply their volume when in contact with water and thus seal the needle hole.
The floor is made of Nylon with a polyurethane coating with a water column of 10,000 mm.
The rods consist of duralumin segments (7075 T6) with a diameter of 9.5 mm.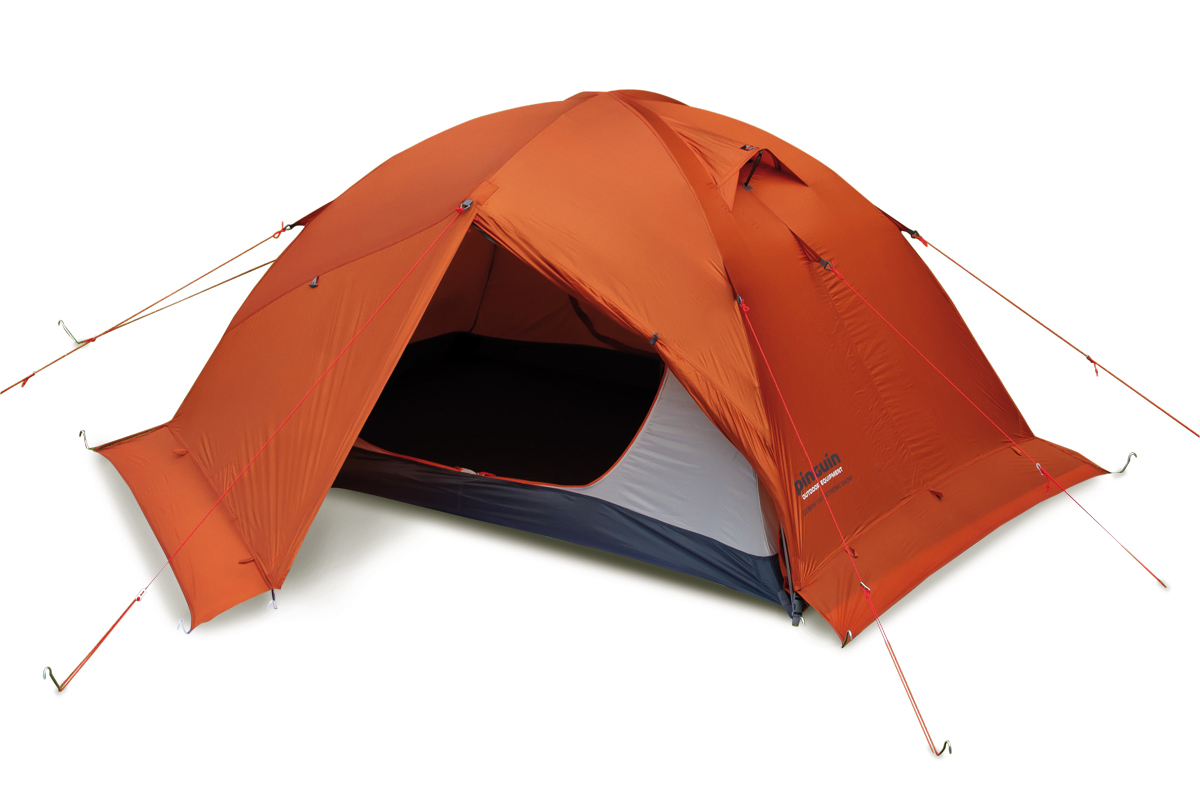 Technical specification
features:
Weight
3.6 kg
Package Size
⌀17 x 50 cm
Number of people
2 - 3
Amount of enterances
2
Construction type
Cupola
Amount of vents
2
Number of poles / crossing points
3 / 1
Buildable without a bedroom
No
Height of tent (bedroom)
115 (110) cm
Siliconised
Yes
Taped seams
No - Expansive treads
Number of pins
21
Category
Expedition
Material
Material of poles
Dural 7075 T9
Pole diameter
9.5 mm
Flysheet material
Nylon RipStop, Siliconization 4 000mm H2O, UV protection
Groundsheet material
Nylon, PU coating 10 000mm H2O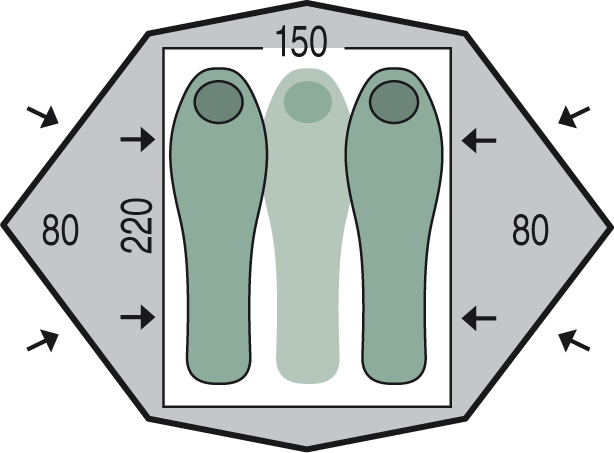 Description
The tent is double-layered and consists of an inner tent and an outer layer - the tropic. The inner tent has a rectangular floor plan with two entrances on its longer sides. The outer tent has a hexagon-shaped floor plan, it also has two entrances, in which there are two vestibules, suitable for storing luggage, for example, and is equipped with a snow collar on the lower edge. At both entrances of the tropic, you can decide whether to open the left or right half of the entrance, or both at the same time. You can use the option when cooking, for example, and easily create the necessary leeward.