Air 33 2019
Main advantages
Camel bag pocket
AIR Vent Back system for maximum ventilation
Hipbelt is removable
Raincover
Reflective loop to fix flashlight
Walking sticks straps
Used materials
HICOR 3.0 RS
High performance and long lifetime fabric
High performance and long lifetime fabric
YKK Zippers
High quality Japan zippers
The zippers of the well-known Japanese manufacturer, which is one of the best zipper manufacturer in the world. The zippers of this brand guarantee quality, long lifespan and reliability. Components of small dimensions, but of great importance, because their trouble-free functionality is often a condition of the function and usability of the whole product.
Spony Duraflex X-Lite Easy Access
For easy handling with gloves
Detailed Description
Multi-day cycling backpack
Air, the two-chamber backpack, was especially developed for all cycling enthusiasts, but its range is much wider. Also suitable for long distance running and for users with excessive sweating.
The backpack features AIR Vent Back System technology, which is used wherever it is necessary to ensure maximum back ventilation while maintaining optimal load distribution.
Due to the fact that it is the smallest two-chamber backpack of our collection, it will be easy for you to maintain your equipment. You can also comfortably pack for 2-3 days.
The chambers are separated by a zipper partition with two riders. The bottom chamber can be accessed through the big opening with two sliders.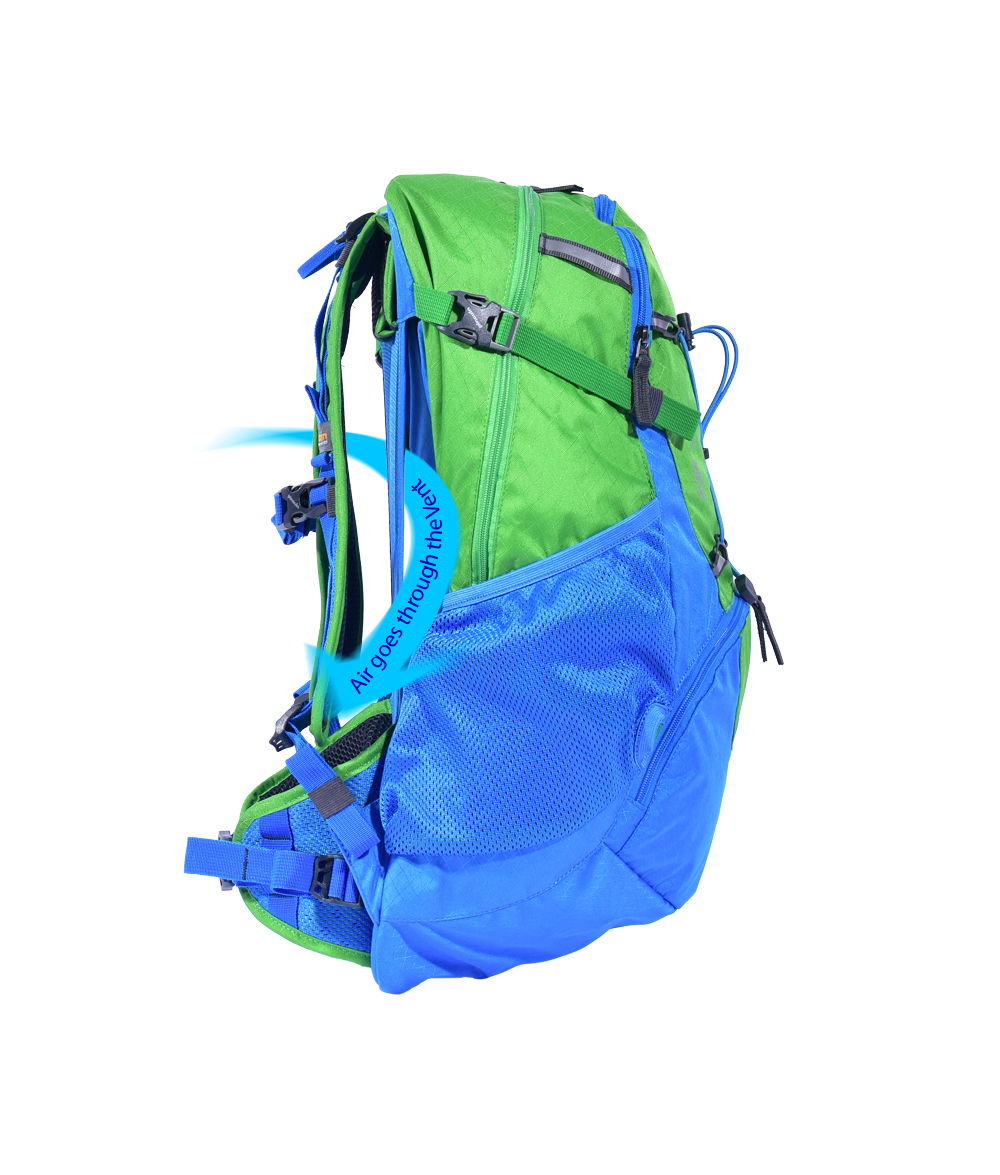 Technical specification
| | |
| --- | --- |
| Material | HICOR 3.0 RS; HICOR 6.0; Duraflex X-Lite Easy Access Buckles |
| Volume | 33 L |
| Weight | 1.15 kg |
| Amount of compartments | 2 |
| Outer / inner zipper pockets | 3/0 |
| Adjustable shoulder straps | Yes |
| Detachable hip belt | Yes |
| Integrated raincover | Yes |
| Camel bag - ready | Yes |
| Back system | AIR Vent Back System |
| Zippers | YKK |
| Dimensions | 56 x 30 x 26 cm |
| Volume | 31L - 50L |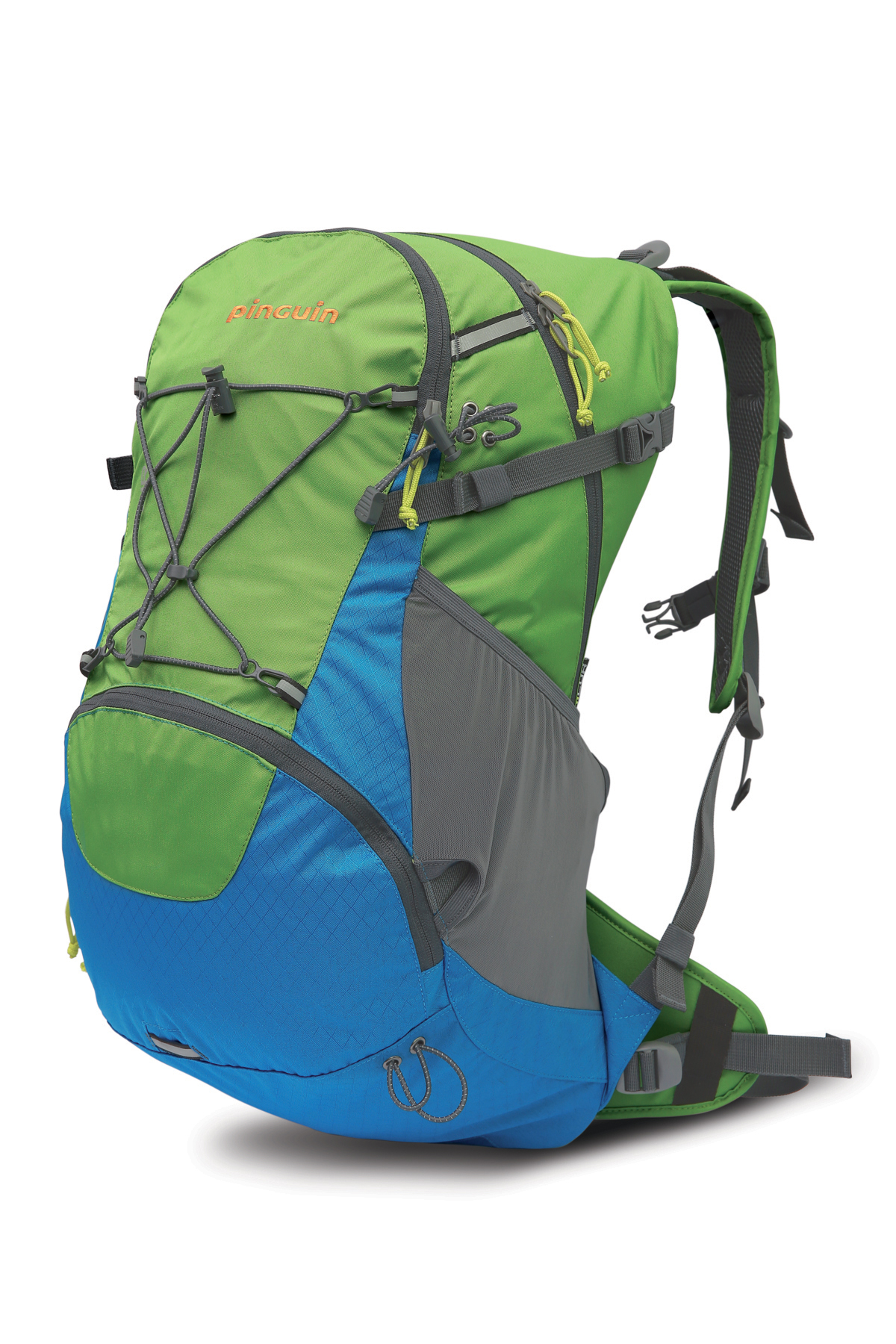 General specifics of Air
At the bottom of the backpack, there is a pocket with the "Raincover" inscription, indicating an integrated raincoat for the backpack, which can be removed if needed. Above the pocket in the middle part, there is a blinker loop with reflective print, there is also a trekking pole loop nearby.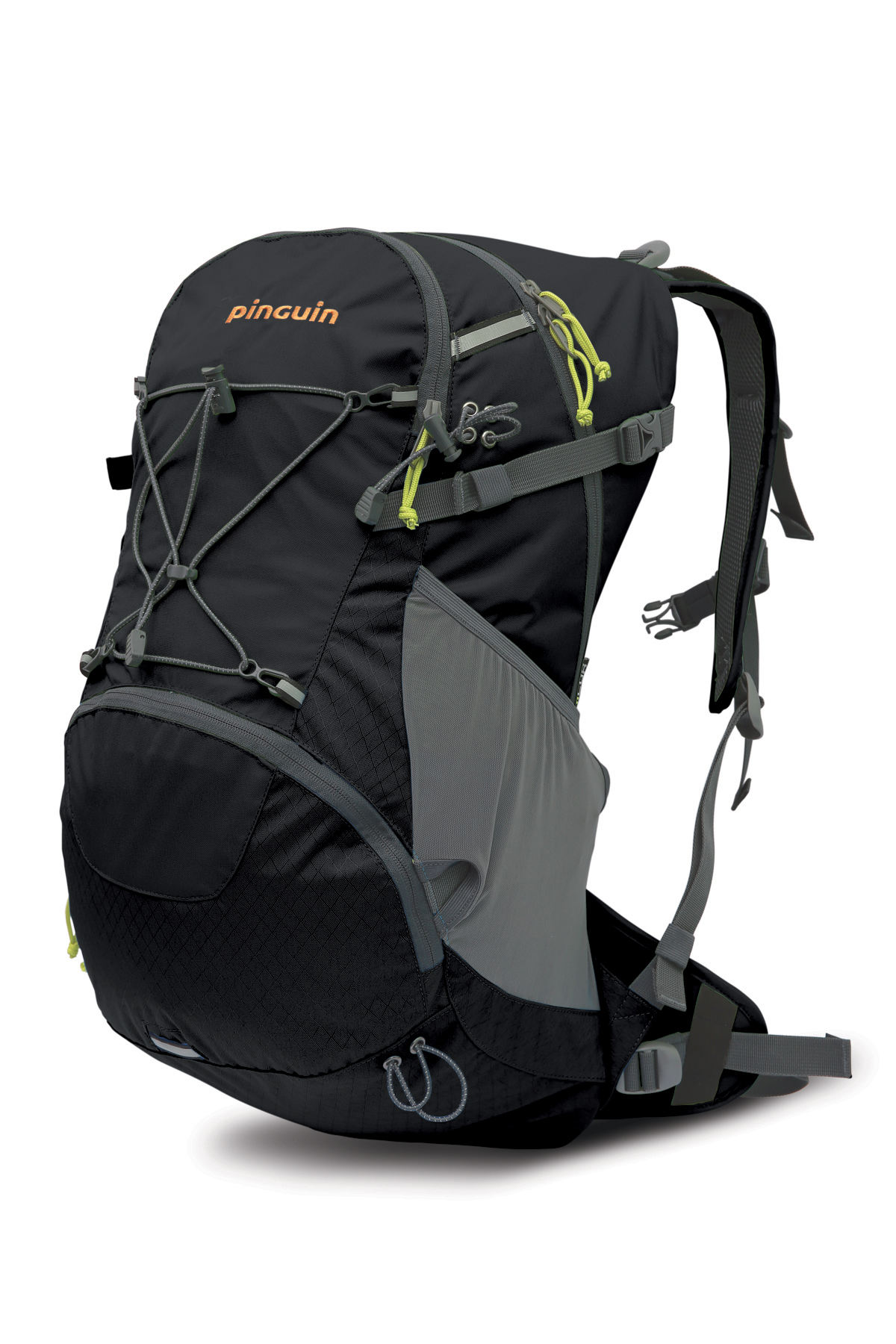 The entrance to the lower chamber is equipped with two sliders and allows generous opening and comfortable filling. Large mesh stretch pockets are placed at the same level on the sides. Inside, there are tightening straps with a buckles. Where the pocket ends, the zipper of the upper chamber is fitted with two riders. The upper part of the backpack, there are straps with buckles suitable for pulling up the top of the backpack or locking the high load of the side pockets.
The front part is provided with a top loop for trekking poles and an elastic web. The web is fastened with snap hooks, which makes it easy to move to the backpack lid. Above, there are smaller pockets on the flat part of the equipment with a mesh pocket.
Backpack Features
Integrated raincoat
Reflective loop for blinker
Large inlet to the lower chamber
The chambers are separated by a zipper with two riders
Elastic reflective web
Two large mesh pockets on the sides
Four straps (including two with clips) to pull back the backpack and lock the load
Middle map pocket with folder
Camelbag pocket, opening and elastic bands for the hose
Adjustable chest strap
Detachable hip belt
Back system AIR Vent